Tech Freedom: Tech start-ups strain against regulatory headaches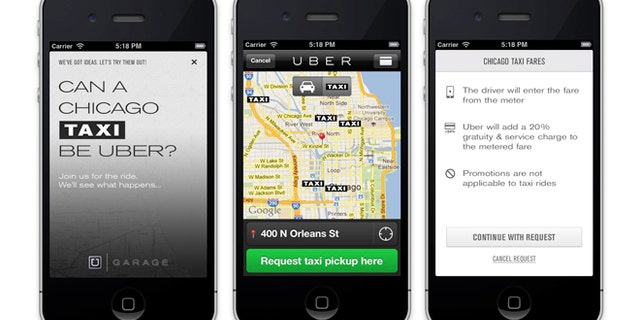 Can't find a taxi on the street? Want to hail one using a smartphone? The technology exists -- if the government lets you use it.
Entrepreneurs are constantly pushing the boundaries of the web. But in some of the newest fields, they've hit an unexpected problem: government regulation. This month, after pressure from users of taxi-hailing app Uber, regulators in both DC and New York revised regulations to explicitly allow the innovative tech app on city streets. Now, multiple companies plan to compete for business. A company called "Hailo" raised $50 million and plans to compete with Uber in New York.
But while DC and New York have repealed rules, many tech companies including Uber still face an uphill battle elsewhere in the nation against what they say are unnecessary regulations, even being forced to leave the U.S. entirely. Here are their stories:
'We're legal under existing regulations, but they've proposed new regulations that would put us out of business.'
Uber CEO Travis Kalanick told FoxNews.com that he has fought against a slew of regulations nationwide.
Some cities discourage Uber cars (and "black cars" in general) from competing with licensed taxis by making it illegal for them to charge below a certain price. Houston, Texas, for example, bans charging below $70 per ride.
"So you can't have date night and go to the restaurant in 5 minutes – you can't do it classy because it's going to cost you 70 bucks each way," Kalanick said. "Why would they ever have a regulation like that? Well, they're protecting the taxi industry."
Kalanick added that in other cities he faces proposed new regulations.
"In Chicago, we are legal under the existing regulations, but they've proposed new regulations that would put us out of business."
He said that Uber customers in Chicago reacted strongly, and so politicians have postponed a decision -- for now. Kalanick has been forced to hire lobbyists in some cities.
"I'm not really fond of this world that they're pulling us into, but in order to get meetings with city officials ... they won't even take your meeting unless you have a lobbyist that got you there. That's just how it is," he said.
Kalanick added that he's faced more regulatory issues in the U.S. than abroad.
"We haven't had any issues abroad yet. Right now, we're in Paris and London. It's been easier to do business in Paris than in many American cities," he said.
Who will win the Oscars this year?
At Intrade.com, people from around the world bet money on things like the Oscars and Presidential elections. Studies find that the resulting betting odds often accurately predict the future, because people making predictions think carefully before putting money on the line.
Currently, the site's bettors think that Lincoln is the most likely to win "best picture" -- they give it a 46 percent chance. Argo comes in second, with a 16 percent chance and Les Miserables third with a 15 percent chance.
But last month, federal regulators sued Intrade.com, arguing that it falls under federal financial regulations for a "commodity options exchange" -- and Intrade isn't licensed for that.
The lawsuit, which demands damages up to "$140,000 for each violation" proved too much for Intrade, which decided it could no longer let Americans use the site, due to the legal and regulatory pressures.
The company is repaying Americans the money they had in the site and will close their accounts by year's end.
In its lawsuit against Intrade, the federal government did not claim that Intrade acted fraudulently toward its members. Rather, it said that Intrade did not have the required government licenses.
Intrade.com and others have applied to the government for such licenses, but have been turned down on the grounds that their businesses "involve gaming and are contrary to the public interest."
Intrade.com's management supports regulations to protect investors.
"Investor protection is important. Regulatory oversight is important. We get that. But what we don't understand is the seeming unwillingness to embrace new channels," the company said in reply to questions from FoxNews.com.
Americans are now forbidden from using prediction markets, but the company said it was hopeful.
"We do see evidence of fresh interest [in prediction markets]... we would favor the regulatory environment that has a more imaginative approach… we want to see that grow in the U.S."
Fed up with expensive hotels?
Every year, thousands of travelers use sites like Roomorama.com to find rooms from locals who have extra space in their apartments.
Roomorama tries to ensure security by verifying the identities of people using the site and allowing renters to rate places they've stayed at. But the whole concept was banned in New York State last year when the state forbid people from renting out an apartment room for any period shorter than a month. Doing so could land you a fine of $800.
Supporters of the ban call such rentals "illegal hotels."
"The Internet has made it easier than ever to advertise illegal hotels," New York state senator Liz Krueger said.
Roomorama.com CEO and founder Jia En Teo says that the law was passed to protect hotels from competition.
"I don't think there will be any loosening [of the regulations] any time soon, to be honest. The hotel lobby is just too strong," she said.
The law is being enforced.
"Some of the larger hosts with many properties [listed on our site] have been issued fines and one has even been sued by the city," Teo told FoxNews.com.
But in spite of government attempts to stop them, she said that people are renting rooms anyway.
"There are new hosts who add their properties every day, because the demand remains!"