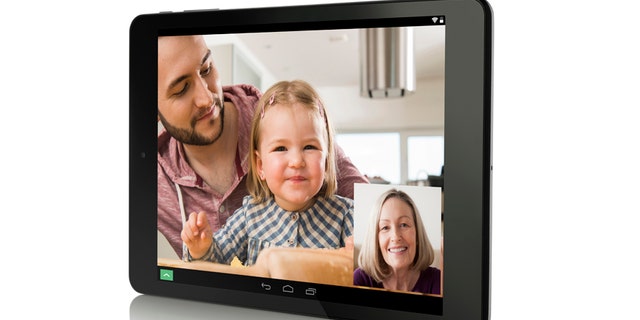 NEWYou can now listen to Fox News articles!
When the main improvement in a high-tech gadget is that it's faster and thinner, you know the product category has matured. Such is the case with tablets, as evidenced by Apple iPad updates this week.
On Thursday the tech giant launched the svelte $499 iPad Air 2 and the iPad mini 3, available later this month.
For the rest of us, there's a welter of less expensive but just as capable models, many tailored to specific interests and needs. Two of the most interesting models are AARP's new RealPad -- aimed at the 50-plus crowd and Kobo's new Aura H20, which is a dedicated e-reader.
The RealPad is easily mistaken for an Apple iPad mini (my daughter thought I'd swiped hers), which is a good thing. You don't want to look like an oldster using a granny tablet. It runs Google's Android software is less than half the price of an iPad mini 3 at just $189 -- a more reasonable price for retirees on a fixed income.
The tablet has a 7.85-inch color touchscreen, built-in Wi-Fi, and front (2 megapixels) and rear cameras (5 megapixels) for video chatting with the grandkids or taking vacation pictures. It also has 16 GB of built-in storage, which can be expanded using a microSD slot -- a feature the iPad mini lacks. There is also Bluetooth wireless support, which the RealPad points out can be used for wireless health care devices (another AARP reminder that this is not a hipster tablet).
For all intents and purposes, the RealPad is a capable Android tablet. What's different are the thoughtful ways the AARP has tried to make it easy -- really easy -- to use. There's an honest-to-goodness owners' manual, for example, that explains basic functions like how to take a picture or how to pair the tablet with a Bluetooth device. And there's a special tool bar at the bottom of the screen that can generate 'how-to' video demonstrations. Perhaps most importantly, however, free tech support available around the clock, 7 days a week via a toll-free number. Yes, you can call any time and get a real person on the phone.
And when you want a little reassurance, there's a RealQuick Fix button. Tapping it will display the tablet's status and let you know if something has gone awry, such an errant app or a problematic Wi-Fi connection.
The RealPad doesn't match the iPad mini in two discernible respects: screen resolution and speaker quality. It's not quite as crisp a display (it has about half the number of pixels as the iPad mini 3) and the speakers are tinny (alternately, there's a headphone jack), but the old folks who tried my test model didn't seem to notice.
For those of us who just want to read, eschewing e-mail and social media distractions, the premium e-reader today is the $180 Aura H2O from Kobo. In fact, it's reached a degree of maturity that many readers will feel that the Aura H2O is first device to rival the portability, flexibility, and legibility of an actual book.
Rather than a color LCD screen, the Kobo reader uses a black-and-white 6.8-inch Carta E Ink HD touchscreen, which makes it easier on the eyes for long periods of reading. It's crisp, with a 1,430 by 1,080-pixel resolution, and has a built-in light for reading in bed. But what's new is that this is the first waterproof e-reader, making it more practical for languorous bathtub reading or juggling around the pool.
The tablet is durable enough to withstand the occasional drop in water, I found and is rated to survive a dunk in about 3 feet of water for 30 minutes. It also means that I no longer worried about leaving it on the coffee table where, well, coffee could be spilled on it.
I read two books on the Aura and found it comfortable and straightforward to use -- just as a book should be. The momentary E Ink flash between pages is now hardly noticeable, appearing only every 5 pages. All the controls are subtle but easy to find. One can tap or swipe to turn pages; a long tap on a word invokes the dictionary definition. I was able to access settings, the home page of stored books, and the Web browser without reading the owner's manual.
Books on Kobo's online store cost about $2 more than most titles on Amazon. But unlike Amazon's approach, Kobo's does not chain you down to their e-store. That's because the Aura H20 supports all the open e-book formats, including EPUB, so you can have access to free classic works from sites like the Gutenberg Project--an important feature that Amazon's e-reader lacks.
Compared to the competition, the Kobo Aura H20 has a bigger screen; the Amazon Kindle Paperwhite and Barnes & Noble Nook GlowLight have 6-inch screens that feel cramped by comparison. It is also the only one of the three with a microSD expansion slot to add up to 32 GB of storage to its built-in 4 GB.
The only downside to the H20 is its price. It's about $60 more than the competing Amazon Kindle Paperwhite and Barnes & Noble Nook GlowLight e-readers. On the other hand, both of those models have smaller screens and neither will survive a dunk in the tub.
Ultimately, it's about choice and in the area of tablets, you certainly have a lot to choose from now.