Straightening Out the Smartphone Mess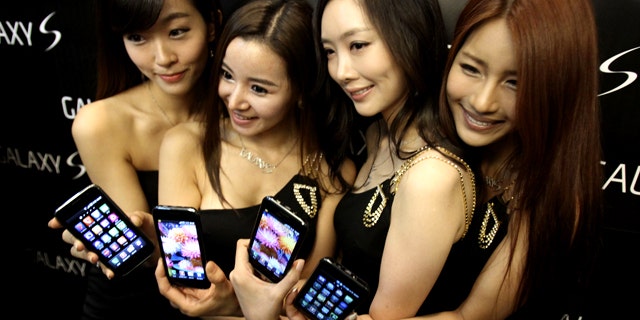 If you want to get confused, look no further than the smart phone market.
A newer, faster, sharper smart phone is released almost every day. Verizon will debut a new Google phone Wednesday, followed by the next-generation iPhone from AT&T on Thursday, both contending with the first 4G phone in the U.S. from Sprint.
So what's the smart choice in smart phones? That depends on what you're looking for.
"I hate AT&T," Jillian Hmieleski says, echoing the opinions of many customers who have been frustrated by the carrier's struggling network and higher fees. "The fees for the iPhone are crazy, and the EVO is just as cool."
She's avoiding the lines for Apple's iPhone and has ordered a $200 (with a 2-year contract) HTC EVO from Sprint. The first 4G phone in the U.S., it surpasses the iPhone 4 in many respects.
Like the iPhone it can handle HD video and has two cameras (a front one for video calls). But it has many features the new iPhone doesn't: a larger 4.3-inch touch screen, a higher resolution 8 megapixel camera, and the ability to place two-way video calls not just over Wi-Fi but also over Sprint's cellular network. And the phone can be used to create a mobile Wi-Fi hot spot, allowing up to eight devices to access the Web through its connection.
A typical voice and data plan costs about $80, but the Wi-Fi hot spot service is another $30 a month. Furthermore, high-speed 4G service is only available in a handful of cities (New York and San Francisco are not yet among them). But Sprint promises to continue to roll out its 4G service, which tends to be about 2 to 4 times faster than existing 3G services from AT&T and others.
Meanwhile, Verizon, which is building out its own 4G service, will announce a new Google Android-based phone from Motorola (rumored to be called the Droid X) at an extravagant event in New York City tomorrow. Whether the phone, similar in size and features to the EVO, will be Verizon's first 4G phone remains to be seen. However, the appearance of Adobe execs at the event underscores Apple's stubborn refusal to support all those Web videos made in Adobe's Flash format.
As for the iPhone 4, despite its name it doesn't support those faster 4G networks. And Apple is sticking by AT&T for now, failing to launch the new phone on Verizon in the U.S. (In Canada, all the major carriers offer the iPhone, for example.) That limits the iPhone's appeal -- even though Apple reports more than 600,000 orders for the new model.
The improved iPhone 4 has a larger battery (rated for 7 hours of talk), a 5-megapixel camera with flash, a sharper screen and a supposedly better antenna. Pricing remains roughly the same: $199 for a 16-gigabyte model with a two-year AT&T contract or $299 for the 32GB model. Older iPhone 3GS models will be sold for $99 with a two-year contract. But AT&T has announced that it will abandon unlimited data pricing plans. iPhone users should be skittish about using those hundreds of thousands of apps in the future.
Apple is clearly worried about the competition. In an unprecedented move, the company moved up the delivery date for some pre-ordered phones to this Wednesday, rather than Thursday as planned. Undoubtedly, it's a moved designed to steal some thunder from the Verizon / Motorola announcement -- which had been intentionally planned for the day before Apple's phone shipped.
Why would Apple worry? Well, there are more Android phone models available on more carriers and in more shapes and sizes than ever. Even AT&T offers Android models, like the HTC Aria, and companies such as Samsung and Dell will release nifty new Android models in the coming weeks.
An excellent example of what an Android phone can do is the Garminfone on T-Mobile ($200 with a 2-year contract). It combines the best of a standalone navigation device with the best of a smart phone. All the Garmin maps reside on the phone, so its turn-by turn directions will never abandon you.
It also comes standard with an excellent cradle that mounts on the dash or windscreen, and the phone's 3.5-inch screen is bright enough to be visible in direct sunlight. Traffic information is included as well, free of charge. Better still, when you unhook the phone from its car cradle, it automatically marks the spot so that later, should you discover you've forgotten where you parked, it will lead you straight back to your wheels.
The smart-phone madness doesn't stop there; the current number one phone is still the RIM Blackberry, after all. But in spite of a revamped online app store, its days as the market leader look numbered -- at least in terms of mindshare among the public.
Despite the confusion, all this competition means better choices for customers. And no matter what your opinion about the iPhone, it has certainly driven other manufacturers to design better phones. Even Microsoft has gone back to the drawing board and will shortly introduce a new line of phones based on its Windows Phone 7 software.
Still, one thing hasn't changed: Carriers are still charging exorbitant fees for monthly service, or like AT&T, dropping unlimited data plans. That means you may think twice about downloading a new app, playing Pandora radio, or surfing on your new smart phone.
Typically, an all-in-one voice and data plan from AT&T or Verizon costs over $100 a month (Sprint and T-Mobile are about $20 less). And that's a fair chunk of change -- no matter which phone you buy.