Solar-Powered Audio Bibles Sent to Haiti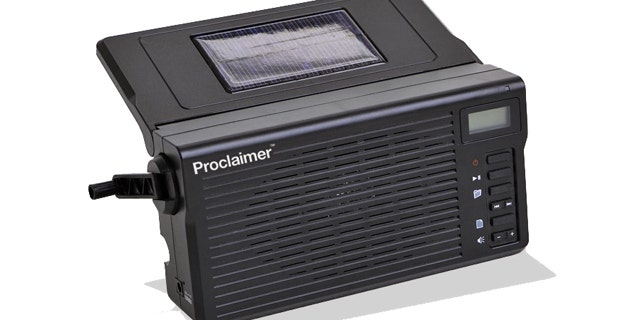 As humanitarian agencies ship food, water and medicine to earthquake-ravaged Haiti, one U.S. company is sending aid of another type: solar-powered audio Bibles.
Officials at Faith Comes by Hearing says 600 "Proclaimer" devices have been shipped to Haiti, where they'll be able to broadcast holy scriptures in native Haitian Creole to up to 300 people at a time.
"Peoples' houses are crumbled, their families are shattered and they are living in ruins," spokesman Jon Wilke said in a statement posted on the company's Web site. "Haitians will need that long-term hope and comfort that comes from knowing God has not forgotten them through this tragedy."
Wilke said there is an "immediate need" for an additional 3,000 devices to be used by disaster relief teams, church groups and ministries.
The devices, which can play scriptures in more than 400 languages, can be used in tandem with a printed Bible to assist "illiterate children and villagers," according to the company's Web site.
"Faith Comes By Hearing provides the ability to access our recordings of the Bible and download them from any computer terminal in the world," the Web site reads. "Those in the mission field are able to reach more souls than ever before, without literacy being a barrier."