Sikorsky, Boeing unveil next-gen Defiant helicopter at Army's annual AUSA meeting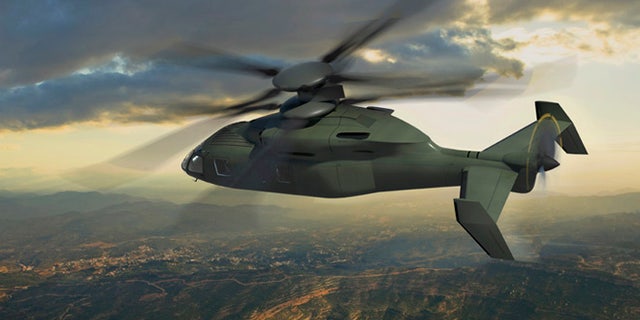 It's the defense version of a new baby announcement.
Sikorsky and Boeing revealed the name of their new Joint Multi-Role (JMR) helicopter tech, "Defiant," at the Association of the United States Army Annual Meeting & Exposition -- one of the largest land warfare expositions in the world, held every October in Washington, D.C.
Within the next two decades, the JMR helicopter program will replace the popular current Apaches and Black Hawks helicopters.
On Oct. 2, the Army announced it plans to invest $217 million in the first phase of the Future Vertical Lift initiative that is developing the JMR. The Defiant team is in the running with three other teams including Bell Helicopter/Textron, AVX Aircraft Co. and Kaman Aircraft, each of which received $6.5 million to begin initial work.
The Army will narrow down selection to two teams who will then build prototypes for flight tests next year.
It seems sequestration and government funding freezing foolishness could not stop the annual Army event, where Army top brass from around the globe are still converging on an exhibition floor awash with land warfare tech.
The Secretary of the Army, the Army Chief of Staff and other senior Army and Department of Defense representatives provide presentations.
And while briefings on military and nation security go on upstairs, downstairs is an enormous space flooded with the latest in land warfare tech to explore.
Who attends?
Each year more than 30,000 attend from the U.S. and foreign countries. AUSA attracts a mix of active military, retired and civilians from the U.S. as well as abroad.
Walking around you will see not just Army senior leadership but senior representatives from the Department of Defense, Congress, as well as many foreign dignitaries. During the three-day event, U.S. and foreign armies personnel will be strolling the floor, hunting through over 500,000 square feet of exhibition space, and window shopping wares from more than ten thousand exhibitors.
International presence
Government funding freezes also failed to discourage foreign countries from taking the opportunity to showcase their latest and greatest at the annual event.
Last year, representatives from 49 countries ranging from Argentina and Chile, Benin and Cameroon, through to Bosnia and Denmark, Russia and Ukraine over to Asian countries like Japan and Singapore.
There are nine international pavilions: United Kingdom, Turkey, Korea, Israel, Germany, France, Canada and Australia.
The Czech Republic Pavilion is making its debut this year. Meopta, a Czech company specializing in precision optics, led the pack with their night vision sights and rifle and sniper scopes.
South Korea is represented this year by quite a broad range of companies and decided to go big with two pavilions.
Ever wonder what a Korean MRE would taste like?
The South Korean Pavilion has the answer. Harvest Charm Food, purveyor of instant rice, noodle and kimchi type products, has been providing the South Korean military with their MREs for more than 30 years.
The pavilion is also featuring companies like Hi-Saver that makes a light reflective skin for fluorescent tubes to save energy alongside companies like Dasan Machineries that make rifle barrels, pistol parts and more along the weapons line.
Over at the Israel Pavilion, Seraphim Optronics revealed a new surveillance solution.
Less than ten pounds, the ROSS is a lightweight surveillance system that is remotely controlled and images day or night. Only just over ten inches by six and a half inches, it compact and can be left unattended to get on with covert surveillance.
Serphaim Optronics specializes in electro-optical systems for military, paramilitary and civilian markets.
Team Defense Australia is featuring more than twenty companies this year.
From ammunition and fuses through to turrets and mine clearance, their companies are offering quite a range of tech.
And when the drinks start pouring freely on the exhibit floor at the end of the day, year in and year out, their patch tends to mop up as most fun national pavilion – a smart way to attract business in a highly competitive environment.
Ballet dancer turned defense specialist Allison Barrie has traveled around the world covering the military, terrorism, weapons advancements and life on the front line. You can reach her at wargames@foxnews.com or follow her on Twitter @Allison_Barrie.