Service lets you video chat with dead people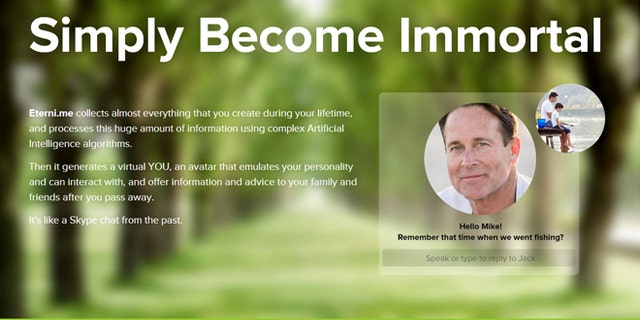 NEWYou can now listen to Fox News articles!
A new startup from MIT's Entrepreneurship Development Program is offering eternal life via the virtual world. The service, called Eterni.me, has designed a way to digitally reconstruct a person's personality after they die so that the dearly departed are able to "communicate" from beyond the grave.
To get started, users must provide the service with access to online activities like chat logs, social-network accounts, photos and emails. Gleaned information is then used to stitch together a digital portrait and avatar that's capable of communicating with friends and loved one's after a person dies.
"Eterni.me collects almost everything that you create during your lifetime, and processes this huge amount of information using complex Artificial Intelligence algorithms," the Web site explains. "Then it generates a virtual YOU, an avatar that emulates your personality and can interact with, and offer information and advice to, your family and friends after you pass away. It's like a Skype chat from the past."
An intriguing concept, though details of the service are scant. Interested people can email the website to receive updates about the service, which expects a full launch soon. According to Boston.com, the site has attracted a lot of positive feedback and attention. Since going live, the site received 36,000 page views and 1,300 email registrations in under 24 hours.
Whether a service like this could ever overcome the creepy factor remains to be seen. What do think? Would you be interested in interacting with virtual versions of your friends and family after they pass? Are you comfortable creating your own avatar to give sage advice from the great beyond? Let us know in the comments below.