Samsung unveils Galaxy Note7 phone, touts iris-scanning technology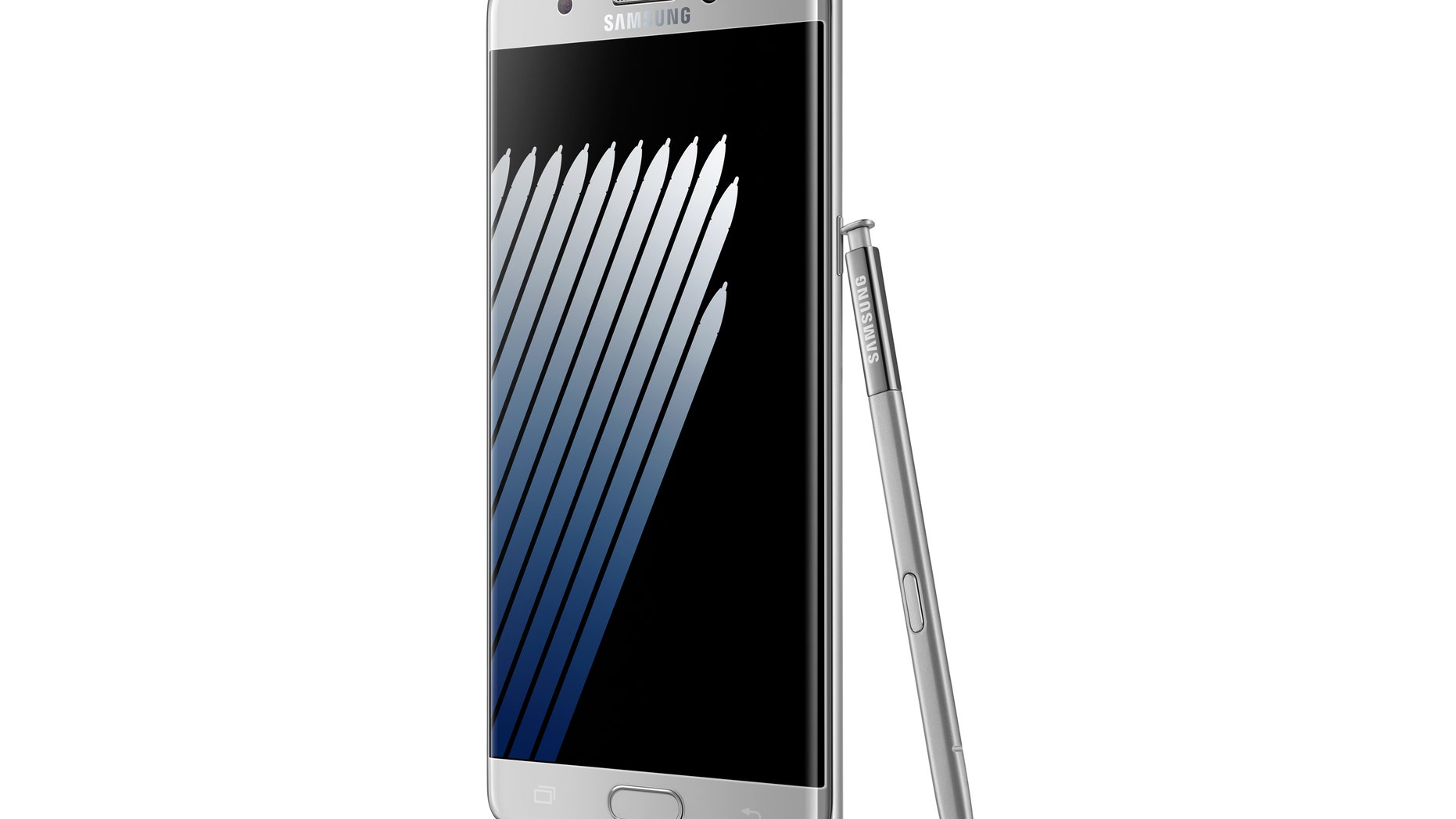 Samsung unveiled its Galaxy Note7 phone Tuesday, which offers iris-scanning technology to unlock the device.
"We're introducing iris-scanning to protect your information," said DJ Koh, president of Samsung Electronics' Mobile Communications Business, during the launch event at Hammerstein Ballroom in New York City.
"Parents will love this because it will help keep their kids' phones safe – kids will love it because it will keep them safe from their parents," he quipped.
Samsung's iris-scanning technology, which took 5 years to develop, uses an algorithm that maps the shape and contours of a user's retina. However, Samsung is not the first phone maker to tout iris scanning – Microsoft offers the technology on its Lumia 950 and 950 XL phones.
Koh said that the iris-scanning technology is a good fit for mobile banking. In the future, the technology will be used to authenticate secure purchases made with Samsung Pay.
The Galaxy Note7 also offers fingerprint scanning -- users can easily switch between different authentication methods, according to Samsung.
Additionally, Samsung is offering a new Secure Folder on the phone -- a separate folder for documents that is accessed via iris scan, fingerprint or passcode. "With secure folder, I can keep certain apps and content under lock and key," said Justin Denison, Samsung's vice president of strategy and market intelligence, during the launch event.
The smartphone can also survive in up to 5 feet of water for up to 30 minutes, according to Denison.
Additionally, Samsung announced new Air Command functions for the smartphone's S Pen stylus that let users zoom in on the screen or translate languages by simply hovering with the S Pen.
Like Samsung's Galaxy S7 Edge, the Galaxy Note7 has a dual-curved screen, although, at 5.7-inches, it is slightly larger than the 5.5-inch screen on the S7 Edge. "Today, large screen formats are the fastest-growing segment of the smartphone market," said Koh.
The Note7 has the same dual pixel camera technology found on the Galaxy S7 and S7 Edge, with a 12-megapixel rear camera and 5-megapixel front camera.
Samsung's latest phone has 64 GB of internal memory and harnesses 64-bit quad-core processor technology. The Galaxy Note 7 is about 30 percent more powerful than the previous Galaxy Note, according to Denison.
The smartphone will be available Aug. 19 from T-Mobile, AT&T, Sprint, and Verizon Wireless, with pre-orders starting Aug. 3.The phone will be available on U.S. Cellular Aug. 19, with pre-orders starting Aug. 4.
T-Mobile is offering the phone, which has a full retail price of $849.99, for $69.99 down and $32.50 per month for 24 months. For customers who get the phone before Aug. 28, T-Mobile is offering a full year of Netflix, a Samsung Gear Fit2 or a 256GB memory card.
AT&T is offering the Note7 for $29.34 per month for 30 months under its AT&T Next plan and $36.67 per month for 24 months under its AT&T Next Every Year plan. The carrier is also offering a Gear S2 smartwatch for free and a Galaxy Tab E tablet for 99 cents on 2 year agreements for customers buying a Note7 on AT&T Next.  Or customers buying a Note7 can get a second Galaxy smartphone on AT&T Next and up to $695 in monthly bill credits.
U.S. Cellular is offering the phone from $27.80 per month for installment plans of 20, 24 or 30 months. For a limited time, customers will get a free Gear Fit2 or 256GB memory card when they buy the Note7.

The Note7 launch comes amid intensifying competition in the smartphone market – Samsung's arch-rival Apple is widely expected to launch its eagerly anticipated iPhone 7 in September.
Samsung also released an updated virtual-reality headset — with a dedicated home button, a wider field of view and a black interior to improve viewing. The new Gear VR will be available Aug. 19 for $100. A previously announced 360-degree camera called Gear 360 also comes out that day, for $350. As phones mature and innovation slows, VR has been one area in which gadget makers try to entice consumers.
The Associated Press contributed to this report.
Follow James Rogers on Twitter @jamesjrogers