Review: Samsung Galaxy Tab 10.1 Is no iPad Killer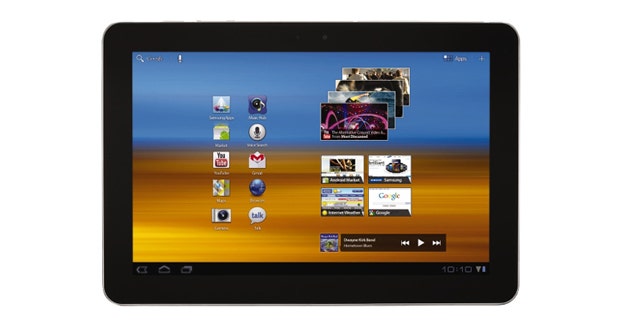 NEWYou can now listen to Fox News articles!
My prediction is holding strong that we won't see a serious competitor to the iPad in 2011. The new Samsung Galaxy Tab 10.1 has hit the streets and it's yet another in a long line of mediocre Android tablet experiences.
I say experience because it's really the software that matters here, not the hardware. Sure, the Galaxy Tab feels nice in the the hand, it's light, it's fast, and it takes okay photos but who cares anymore about that?
Think about it. Would you put a blindfold on and walk into a Best Buy, feel around for a tablet and buy one based solely on how it feels in your hands? By that metric RIM would've sold millions of the Blackberry Playbook.
It has a nice display. That's great. The iPhone 4 has a gorgeous retina display but I've never heard one person say to me, "you know I'm thinking about getting an iPhone 4 because of the retina display."
The form factor of the Galaxy Tab makes little sense to me. The screen is really wide, boasting a 16:10 aspect ratio. That's fine for watching movies like Clint Eastwood's western Unforgiven with a similar aspect ratio, but it's weird for other apps like calendar where events look ridiculously stretched in portrait mode. (Back to movies in a minute).
The vertical space is also limited, so that means a smaller workspace -- and when you've got that virtual keyboard in use there's little if no space to work with. It works passably on the similarly sized Sony Vaio P laptops because the keyboard sits below the screen.
The Android Honeycomb software that powers this device is still buggy. Sure, Google's improved some of the stability issues that hindered the first go round but I still had plenty of sluggish moments. I experienced enough stuttering in the software for it to be annoying. You don't get that on the iPad. And let's be honest, no matter how you slice it, Honeycomb lacks elegance.
Apart from the software running the device there are simply too few quality third-party applications built for Honeycomb worth mentioning. Who cares if there are 65,000 Android apps that can run on Honeycomb tablets if most of them are nearly worthless when running on that same tablet?
Let's get real: almost no quality news-reading apps, no quality movie-watching apps that take advantage of that 16:10 screen, no Twitter apps worth mentioning -- and that's just the tip of the iceberg.
My job is to recommend or not recommend gadgets based on my experience using those devices. For the general consumer I can't think of a single reason to buy this device.
After all, the Samsung Galaxy Tab 10.1 starts at $499. So does the iPad 2.