Report: Boeing plans for post-fighter future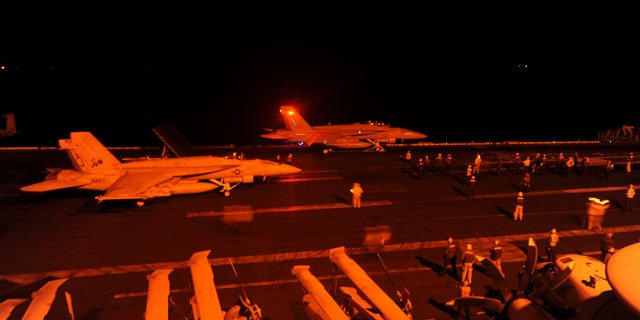 NEWYou can now listen to Fox News articles!
Boeing Co. is planning for an era in which it no longer builds fighter jets, according to a news report.
The world's largest aerospace company may stop building the F/A-18 in 2017 and the F-15 in 2019 amid a slump in demand for the military aircraft in both the U.S. and abroad, according to an article published Thursday by Doug Cameron and Robert Wall of The Wall Street Journal.
Chris Chadwick, president of Boeing's defense, space and security unit, in October will begin implementing a business strategy that instead focuses on capturing more of the drone, bomber and trainer market, according to the article. "You have to face reality," he told the newspaper.
The shift comes despite the Navy's ongoing use of the F/A-18E/F Super Hornet to strike Islamic militants in Iraq and the company's ongoing lobbying campaign to persuade U.S. lawmakers to preserve funding for the fighter planes, both of which are built at its St. Louis plant.
Earlier this year at the Navy League's annual conference outside Washington, D.C., Boeing touted the effectiveness of its fourth-generation EA-18G electronic attack plane over Lockheed Martin Corp.'s F-35 stealth fighter. In presentations and advertisements, the company argued the Growler is more equipped than the Joint Strike Fighter for operating in areas with sophisticated enemy air defenses, known in military parlance as anti-access, area-denial, or A2-AD, environments.
"Stealth is perishable; only a Growler provides full spectrum protection," stated a slide in a briefing given by Mike Gibbons, vice president of F/A-18 and EA-18G programs for Boeing, in a not-so-subtle dig at the radar-evading, fifth-generation jet made by Lockheed.
Boeing pressed lawmakers to add funding for 22 additional Growlers in the Defense Department's fiscal 2015 budget, which begins Oct. 1, citing analysis that shows the need for a total of 50 or 100 more EA-18Gs to meet joint and coalition requirements.
The Pentagon's budget request didn't include any funding for the EA-18G, a derivative of the F/A-18. What's more, it proposed retiring 51 F-15C Eagles, almost half of which are in Europe, due in part to automatic budget cuts known as sequestration.
The House of Representatives has passed its version of the annual defense spending bill that included more than $1 billion for a dozen EA-18G Growlers. The Senate hasn't yet adopted its version of the measure. Congress this week passed a short-term spending measure known as a continuing resolution, which will fund the government through mid-December.