Pope Sends Out His First Tweet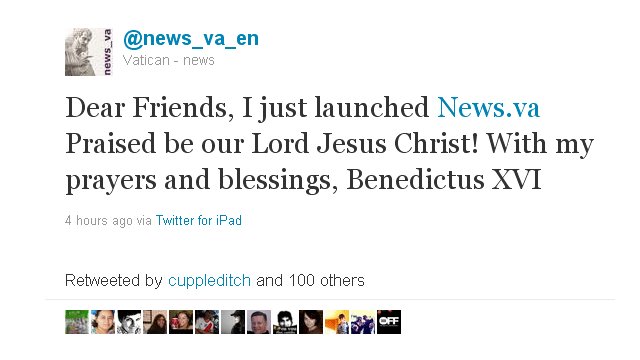 Pope Benedict XVI sent his first tweet Tuesday, typing it himself on an iPad.
The Vatican had confirmed the pope's inaugural tweet, announcing the launch of news.va, a Vatican news and information site.
He added, "Praised be our Lord Jesus Christ! With my prayers and blessings, Benedictus XVI."
The Vatican first entered the world of social media as it unveiled a Facebook page dedicated to the upcoming beatification of Pope John Paul II in March.
"What we found is that Facebook doesn't just share information, it creates community," said Monsignor Paul Tighe, the No. 2 in the Vatican's social communications office. "People begin talking to each other and sharing ideas."
The new site Pope Benedict XVI tweeted about will serve as a one-stop-shop aggregator of news from the Vatican's various information sources: Vatican Radio, Vatican Television, the Vatican newspaper L'Osservatore Romano, the Holy See's press office and Fides, the Vatican's missionary news agency, Tighe said.
The Vatican's current website -- www.vatican.va -- will remain since that's more of a stable site with basic information about the Holy See, key Vatican documents and offices, and papal activities.
The new site, rolled out first in English and Italian and then other languages, will be more news-based, bringing together onto one page the current disorganized web presence of Vatican media.
"This is a beginning, in a simple way, of allowing the pope to interact with the questions of people and allowing people a direct form of access to the pope," Tighe said. "With time we'll see how different initiatives can develop, but the commitment there is to interactivity, to engagement."
News wires contributed to this report.