Picasso masterpiece reveals lost painting, hidden details
Scientists have harnessed sophisticated X-ray and imaging technology to reveal a lost painting and other details hidden in a Picasso masterpiece.
The painting, "La Miséreuse accroupie" (The Crouching Woman), is a major work from Picasso's Blue Period. High-tech analysis of the 1902 painting, however, has revealed how Picasso painted over a landscape by another painter. Buried images linked to other works by Picasso have also been found.
Owned by the Art Gallery of Ontario (AGO) in Toronto, the painting of the crouching and cloaked woman was analyzed by an international team of experts.
SECRET GHOSTLY PORTRAIT OF MARY, QUEEN OF SCOTS, DISCOVERED BENEATH 16TH-CENTURY PAINTING
In addition to researchers from the AGO, the Northwestern University/Art Institute of Chicago Center for Scientific Studies in the Arts (NU-ACCESS) and the National Gallery of Art in Washington worked to unravel the painting's secrets.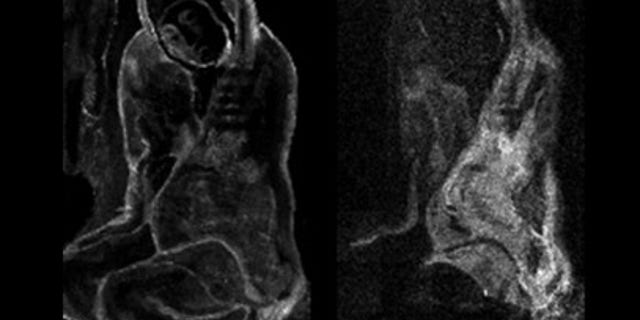 The identity of the landscape artist is unknown, although experts believe that the work was likely created by another painter in Barcelona, where Picasso spent part of his early life.
Picasso painted over the landscape after rotating it 90 degrees to the right and also incorporated some of the features into "La Miséreuse accroupie," according to the researchers. Some of the lines from the cliff edge were incorporated into the woman's back, they noted.
VAN GOGH DISCOVERY: PREVIOUSLY UNKNOWN DRAWINGS BY DUTCH MASTER IDENTIFIED
"Picasso had no qualms about changing things during the painting process," explained Marc Walton, a research professor of materials science and engineering at Northwestern University, in a statement. "Our international team – consisting of scientists, a curator and a conservator – has begun to tease apart the complexity of 'La Miséreuse accroupie,' uncovering subtle changes made by Picasso as he worked toward his final vision."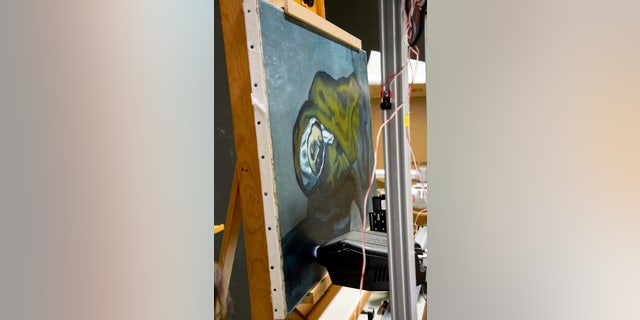 Scientists, for example, identified a compositional change in the painting – Picasso had initially painted the woman holding a disk in her right hand. However, these features, along with her right arm, were painted over with a cloak in the completed version of "La Miséreuse accroupie."
Experts note that the hidden arm is similar to a woman's right arm in "Femme assise, robe bleue," (Seated woman, blue dress), a 1902 Picasso watercolor, that was sold at auction for $45 million last year.
GEORGE WASHINGTON'S FAMOUS REVOLUTIONARY WAR TENT FOUND IN NEWLY-DISCOVERED PAINTING
While previous X-rays had already identified an underlying landscape beneath "La Miséreuse accroupie," the latest research has given a much clearer insight into the artwork's secrets. John Delaney, senior imaging scientist at the National Gallery of Art, used infrared reflectance hyperspectral imaging, which identifies underlying images based on the relative transparency of their paint layers, to reveal the painted-over arm and disk.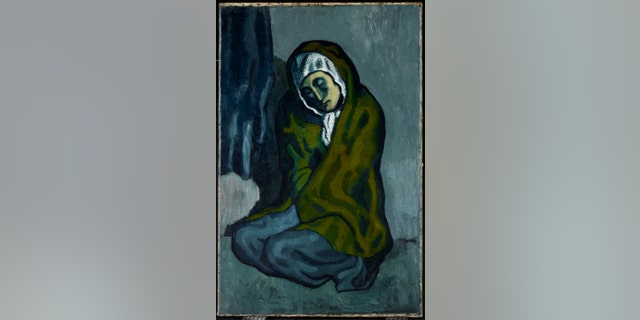 NU-ACCESS scientists then garnered additional detail by scanning the painting with an X-ray fluorescence scanner.
"We now are able to develop a chronology within the painting structure to tell a story about the artist's developing style and possible influences," said Sandra Webster-Cook, AGO's senior conservator of paintings, in a statement.
LEONARDO DA VINCI'S $450 MILLION 'SALVATOR MUNDI' PAINTING HEADS TO THE LOUVRE ABU DHABI
Scientists revealed their findings Saturday during the annual meeting of the American Association for the Advancement of Science (AAAS) in Austin.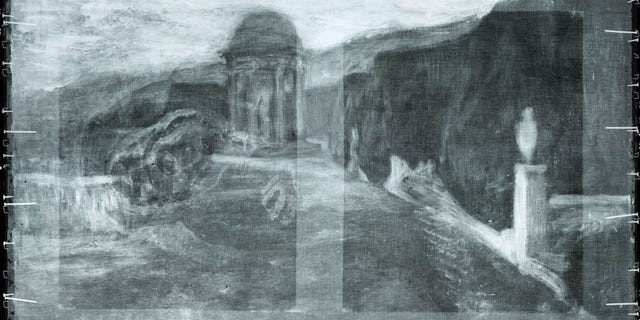 In a separate project, experts from the Musée national Picasso-Paris and NU-ACCESS also performed high-tech analysis of 39 bronzes and 11 painted sheet metal sculptures by Picasso. The sculptures were studied using X-ray fluorescence spectrometry and an extensive database of alloy "fingerprints" from other early 20th-century bronzes.
Alloy analysis revealed that five of the bronzes were cast during 1941 and 1942 in a Paris foundry owned by Émile Robecchi, a relatively little-known collaborator of Picasso. Silver was also found in the facial features of one of the sheet metal sculptures. The research findings were also revealed Saturday at the AAAS meeting.
LONG-LOST 'NIGERIAN MONA LISA,' VALUED AT OVER $280G, FOUND IN 'MODEST' NORTH LONDON APARTMENT
Other artworks have also been revealing their secrets. Last month, for example, experts in the Netherlands identified two previously unknown drawings as works by Vincent van Gogh.
In 2017, a secret portrait of Mary, Queen of Scots that had been hidden for centuries beneath another painting was discovered.
Last year it also emerged that a recently discovered 235-year-old panoramic painting has the only known wartime depiction of George Washington's Revolutionary War field tent.
Follow James Rogers on Twitter @jamesjrogers