Paul Allen's Stratolaunch, world's largest airplane, completes key taxi test days after his death
Paul Allen's Stratolaunch, the world's biggest airplane, completed a crucial taxi test just days after the billionaire philanthropist's death.
The Microsoft co-founder's humongous plane is scheduled to leap into flight soon — after a few more tests like the most recent one, where it reached 80 miles per hour on a runway in the Mojave Desert.
NEIL DEGRASSE TYSON: SPACE EXPLORATION COULD MAKE EARTH MORE PEACEFUL
Sadly, Allen, who died of lymphoma on Oct. 15, will not get to see his massive creation take flight.
The project is part of Allen's longtime spaceflight push.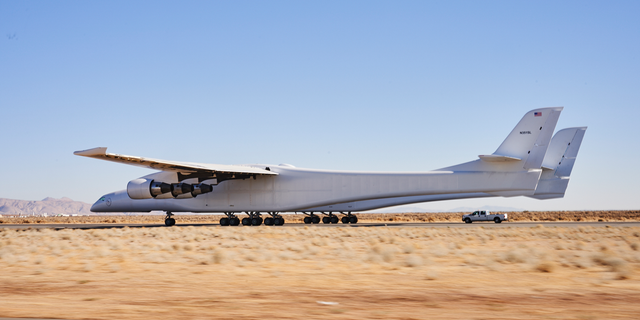 Stratolaunch, with a wingspan longer than a football field, two cockpits, six engines and 28 wheels, will eventually be used to transport rockets carrying satellites and rocket ships.
"You don't build [that plane] unless you're very serious, not only about wanting to see the plane fly but to see it fulfill its purpose. Which is getting vehicles in orbit," Allen told Wired magazine earlier this year.
NASA ASTRONAUT DESCRIBES DRAMATIC ESCAPE FROM FAILED SOYUZ ROCKET
The astonishingly supersized plane has 80 miles of wiring, a 385-foot wingspan and a takeoff weight of 1.3 million pounds, according to Wired.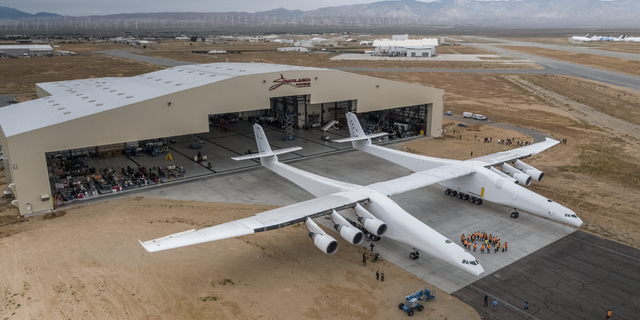 Although critics have slammed Stratolaunch as a vanity project, Allen said last year that he saw the plane as a way to advance a host of industries by launching satellites into orbit.
"The capabilities of these small satellites is something that's really interesting and fascinating," Allen, who grew up knowing all the names of the Mercury 7 astronauts, said, "both for communications, where a lot of people are putting up constellations of satellites, and for monitoring the challenged health of our planet."