Paraplegic Berkeley Student Walks Across Stage to Get His Diploma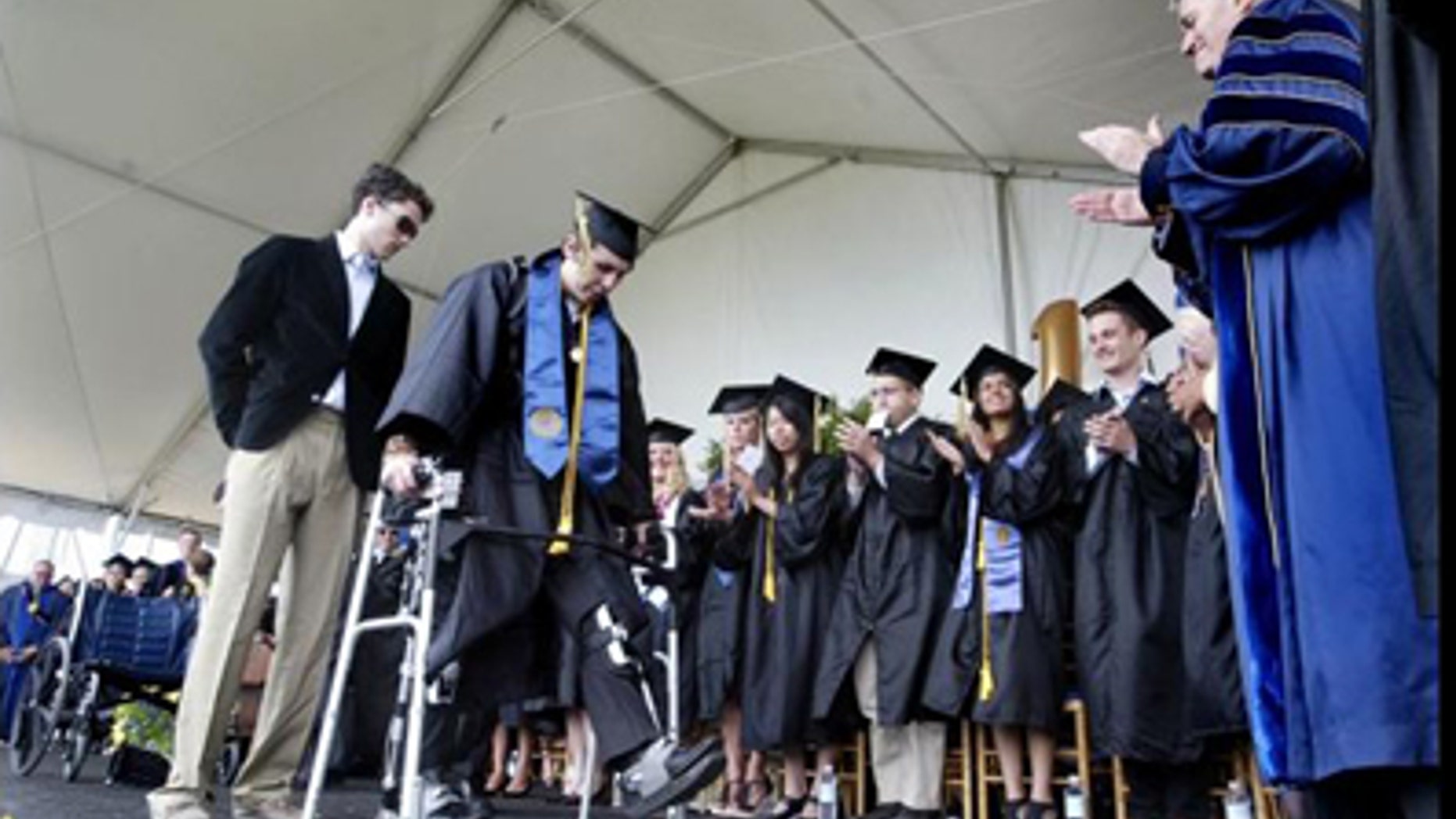 About 15,000 people attending a UC Berkeley graduation witnessed a paraplegic student walk across the stage to receive his diploma, the Oakland Tribune reports.
Austin Whitney, 22, strapped on the exoskeleton, a device designed by UC Berkeley researchers that enabled him to move his legs during the walk across the stage Saturday.
Whitney, a double major in history and political science, grew up in San Juan Capistrano, Calif., and was paralyzed in July 2007 when he crashed his car after drinking with friends, according to the paper. He was hospitalized for 41 days.
"When I was getting out of the hospital four years ago, the last thing I was thinking about was graduating from college," he said, his face beaming. "But I set that as my goal above everything else. And here I am, walking for my diploma.
"It makes me very hesitant to use the word 'impossible' ever again," he told the Oakland Tribune.
The robotic legs, which involve leg-brace supports and a slim boxlike apparatus strapped to Whitney's back, are the latest version of an exoskeleton developed by UC Berkeley mechanical engineering professor Homayoon Kazerooni and his team of graduate-student researchers in the Robotics and Human Engineering Lab.
Whitney hopes to own an exoskeleton device one day, but realizes there is still more work to be done. His journey across the stage, with support from a walker and engineering students closely hovering at his side, was successful but tentative. One foot even needed a gentle nudge from behind to get moving. Then, the rest of the steps were completed with no other assistance.
According to the paper, Whitney said he quit drinking after his car accident, and now gives motivational talks, telling students not to drink and drive. He plans to continue working with the engineering researchers -- who have become his best friends -- well into the next year, and also hopes to apply for law school.
Click for more on this story, including more photos from the Oakland Tribune.