Once High-Flying Netflix Falls to Earth as Subscribers Flee, Earnings Tank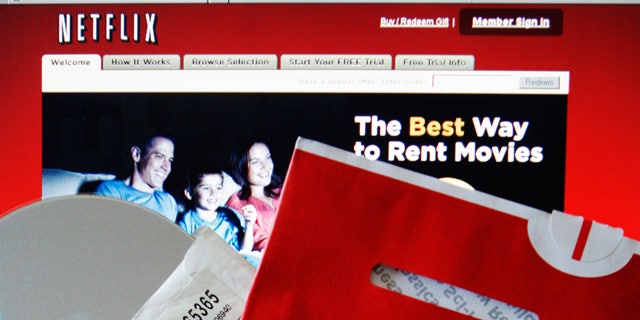 NEWYou can now listen to Fox News articles!
Is this the end of the road for the DVD-rental business?
More than 800,000 subscribers fled Netflix in the third quarter amid rising prices and growing anger at the company's flip-flopping business model -- and the company's stock took a rollercoaster-style plunge that evaporated capital and had day traders gasping for breath. Some analysts argued that the trouble with once high-rolling Netflix is a fresh nail in the coffin of the DVD rental business.
"The future is clearly streaming now -- it's only a matter of time before all disk-based media becomes obsolete," Rob Enderle, a leading technology analyst with The Enderle Group, told FoxNews.com.
"It'll die in cities first and die more slowly the farther you get away from high speed network connectivity," he said.
Enderle may not be the only one to make that conclusion: Netflix shares traded around $75 for the first time in 18 months, a 36 percent plunge Tuesday that continued a tumble that has erased about $12 billion from the company's market value in just 104 days.
In other words, if you owned 1,000 shares of NFLX stock on Friday, it was worth $118,840. As of 11:48 a.m., that same stock was worth $77,690 -- a loss of $41,150 on paper.
The video-rental company was haunted by its decision to raise prices and its admittedly botched effort to divorce rentals of DVDs from streaming video services, admitted Reed Hastings, Netflix's chief executive officer.
"We made a couple of big mistakes this year," Hastings said. "It's up to us to own up to those mistakes and to move forward."
And Netflix isn't the only company struggling with change in the movie rental industry: Blockbuster, which once dominated the rental market, collapsed as a brick and mortar company, filing for bankruptcy in April. The company was purchased by Dish Network and moving the focus off renting DVDs and onto the online streaming service built to compete with Redbox, Hulu Plus and others.
Netflix's struggles began in July when the company announced it was raising prices and separating its DVD and streaming services into two separate businesses, one named Netflix and a new one named Qwikster.
If you're dedicated to your disc collection, don't worry yet. The death of the DVD probably won't be next week, Enderle said.
"Technologies have a habit of sticking around for years, servicing those that move very slowly to new standards," he told FoxNews.com. "In this case, there will be many parts of the world that won't have the networking infrastructure for economical streaming for some time."
But the end is definitely coming -- and this time around, we'll stream it live on our computers.