North Korea's Cyber Army Gets Increasingly Sophisticated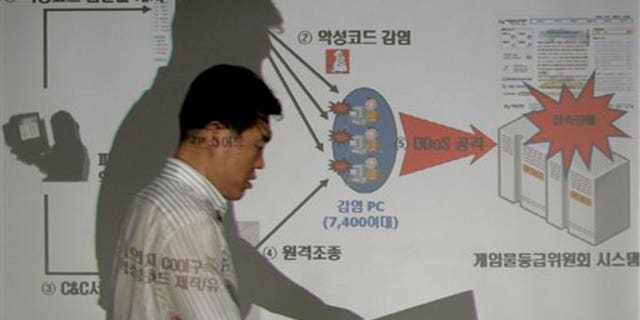 While the world worries about North Korea's nuclear weapons, its leader seems to be thinking that the more important battlefield involves cyber warfare.
"Modern war is electronic warfare. Victory or defeat in a modern war depends on how to carry out electronic warfare.," Kim Jong-Il told his military several years ago. He has since made cyber warfare a top, though secret, priority of his paranoid regime. And the first salvos of that war have fired.
Over the past year, North Korea has been suspected of involvement in ever-larger cyber attacks against South Korea, as many as 15,000 a day, according to the South Korean intelligence estimates. And as the attacks continue, so does their sophistication.
At first the cyber attacks, such as the massive July 4 attack in 1999 against government sites in the U.S. and South Korea, were basic -- even primitive -- "denial of service" assaults in which an array of computers simply overwhelm sites. But as time passed, other more sophisticated attacks have come to light, including one in which a South Korean military officer's computer was targeted and contingency plans of the U.S. response to troubles was stolen.
The latest attack on April 12 hit South Korea's Nonghyup Bank and caused the bank's computer systems to collapse, leaving 30 million account holders without access to their money for several days. Prosecutors in South Korea say they linked the attack to a computer run by the North's Reconnaissance General Bureau.
In fact, South Korea's intelligence agencies now believe that North Korea has the capability to "paralyze the U.S. Pacific Command and cause extensive damage to defense networks inside the United States."
Among the most frequent visitors to U.S. military web sites, according to the U.S. Defense Department, are computers traced to North Korea.
Much like the clandestine nuclear program run by the rogue state, its cyber warfare capability is shrouded in secret and analysts differ on how extensive and sophisticated it has become. But the recent attacks and an increasing body of evidence from defectors paint an alarming picture.
So alarming that Rep. Peter Hoekstra, of the House Intelligence Committee, has called for increased sanctions against North Korea to slow their progress.
Bruce Bennett, an expert of North Korea at RAND Corporation, said that any estimate of the north's cyber capabilities involves a great deal of guesswork. At best he says, concentrating on this form of warfare "allows the North to intimidate and provoke while giving them a degree of deniability."
According to defectors, the North Korean military has amassed as many as 30,000 electronic warfare specialists and they have become the elite core of the military. Defectors say that the regime now culls the brightest students from the nation's universities and funnels them into special "secret" schools that concentrate on hacking and developing cyber warfare programs targeted at South Korea. At one secret school, security is so tight that only one outsider -- dictator Kim Jong-Il -- is allowed to drive onto the campus.
According to Jang Se-yul, a defector who attended one of the schools and was an officer in the North Korean electronic warfare command, the heart of the effort is centered at Automation University, where "100 to 110 hackers a year" a trained in advanced electronic espionage every year often.
And, according to estimates from Washington and Seoul, their abilities rival those of the CIA.