MSI Slider S20 Hands-On: Windows 8 Ultrabook With Rollout Keyboard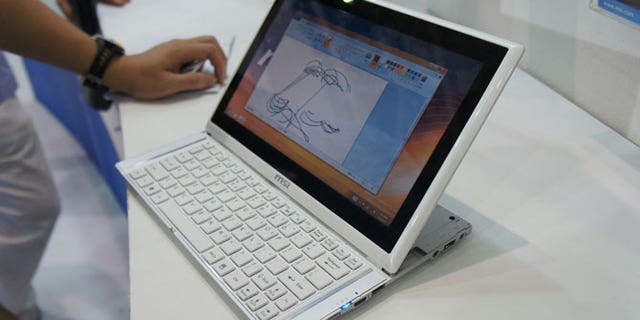 MSI has been very quiet lately, content to release just a handful of large gaming notebooks in the U.S. and concentrate on its place in the component business. But the company who ruled the netbook roost may soon have another notebook coming to America, one that carries a rather unique look and feel. Dubbed the Slider SL20, MSI's first foray into Ultrabook space is an 11.6-inch screened Windows 8 machine with a full size keyboard that slides in and out, allowing the device to transform from a slate into a notebook.
ASUS pioneered a similar concept with its Eee Pad Slider SL101 last year, but that was an Android tablet and its keyboard had smaller keys. MSI's Slider SL20 is a full-fledged Ultrabook, complete with an Intel 3rd Generation Core series CPU, Windows 8 and a combo hard drive / SSD for fast booting. We had a chance to spend a few moments with the SL20 at MSI's booth here at Computex Taipei and came away impressed with its attractive design, responsive keyboard and bright touchscreen.
The top surface of the SL20 is covered in white plastic with silver colored sides and bottom. The stark white surfaces combine with the blue power light to give the notebook a space age look and feel that reminded us of the spaceship in Kubrick's 2001: A Space Odyssey. The mechanism appears to slide open and closed quite easily, though the mechanism seems sharp and sturdy enough to withstand frequent use.
The Slider S20 doesn't have a ton ports, but it does sport two USB 3.0 connectors, HDMI out, and Ethernet. We really appreciate the addition of the Ethernet port, because so many Ultrabook makers are choosing to give up this vital connection just to save a few millimeters of space. We didn't notice an SD card reader, but hope that's just something we missed.
The keys on the keyboard itself felt extremely responsive to the touch and had plenty of vertical travel. Users with sensitive wrists may be concerned because there is absolutely no palm rest to lean on, but others will simply appreciate the Slider S20's strong tactile feel.
The 1366 x768 touch screen appeared fairly bright and viewing angles appeared fairly wide from the left and right sides, though when the screen was in tablet mode and flat on the table and we were standing a few feet away, it was rather difficult to see. However, if you were using the device as a tablet, you wouldn't be looking at it flat on a table while you stood a few feet away.
Perhaps the best feature we noted in our brief hands-on was the screen's ability to support up to 10 fingers at once.When we launched Windows paint, we were able to draw lines with all five fingers on our hand at once. A number of new Windows 8 programs are being designed to take advantage of screens which support so many fingers at once.
An MSI rep told us the company plans to release the Slider SL20 around the time of the Windows 8 launch and that, unlike many other MSI notebooks, it should actually come to America. No word yet on pricing.