Marketers Testing Ads in E-Books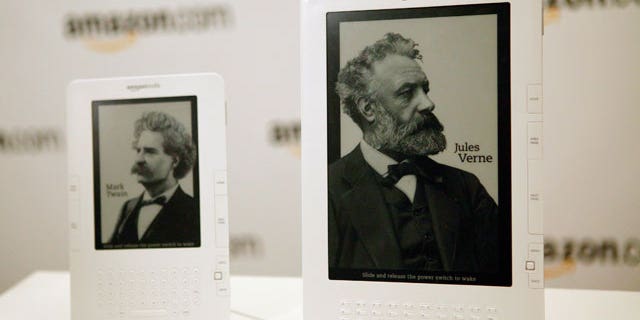 The advertising world is drawing up plans to invade one of the last bastions of media that is largely ad-free, the growing e-book market, The Wall Street Journal reported Monday.
Marketers were exploring a variety of formats, including sponsorships that give readers free books. Videos, graphics or text with an advertiser's message that appear when a person first starts a book or along the border of the digital pages were also in the works. Ads could be targeted based on the book's content and the demographic and profile information of the reader.
The advertising business dabbled with books before without much success, as authors howled and revenues proved skimpy. It was not clear that readers and authors would be more accepting now.
But with sales of bound books under pressure, the introduction of sleek e-readers and the emergence in the industry of such big players as Apple, Amazon.com and Google was fueling new enthusiasm for e-book advertising.
One digital-book store, Wowio, was making inroads selling ads in the e-books users download from its site onto, say, laptops or e-readers like Apple's iPad and Amazon's Kindle. Some Wowio e-books have three pages with promotions: an introduction and a closing page each with an ad, plus another full-page ad.
The company was also experimenting with techniques to insert ads between chapters and to target ads using profile information that users submit to its website, said Wowio chief executive Brian Altounian.
The movie site Fandango is among the Los Angeles company's clients. Fandango is giving Jonathan Swift's "Gulliver's Travels" to people who buy tickets on the site to the Jack Black movie "Gulliver's Travels," which opens Christmas Day.
"It is not the kind of thing where you are reading and a video pops up on the screen," Altounian said. "If advertising gives access to content that is free or heavily subsidized, then most readers will accept it."
Wowio charges advertisers between $1 and $3 for each book downloaded and shares revenue with the publisher. The publisher determines how much of those ad dollars trickle down to the author.
But ads in e-books are likely to be a tough sell.
"It would be an unpleasant distraction in the middle of a narrative," said literary agent Ann Rittenberg. "This is going to be a lot more complicated than putting an ad at the back of a paperback."
The market for digital books is $966 million this year and is expected to grow quickly in the coming year, according to Forrester Research.
Read more at the Wall Street Journal.