March Madness: NCAA harnesses Intel technology to broadcast games in VR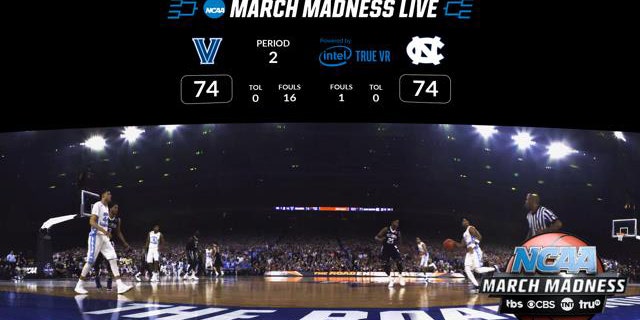 Tech giant Intel is ratcheting up the March Madness for basketball fans, offering an expanded field of games in virtual reality for the men's NCAA tournament.
Intel's newly rebranded True VR (the platform and company gained by acquisition that's formerly known as Voke VR) is partnering with the NCAA and tourney broadcasters CBS Sports and Turner Sports in a three-year deal.
"VR technology is the next evolution of bringing the fan closer to the actual in-arena experience. This type of immersive experience will bring in the superfans who truly want to feel the energy and excitement of the game. It also offers a product that brings in a younger demo, given that most VR adopters are gamers," Hania Poole, general manager of NCAA Digital at Turner Sports told Fox News.
HOW TO WATCH THE NCAA TOURNAMENT WHILE AT WORK
The deal gives Intel exclusive live VR game rights for the basketball extravaganza and takes effect with the Sweet 16 round that tips off Thursday night.
Intel True VR plans to create six live experiences starting with two Sweet 16 round games in San Jose, the Elite 8 game two days later in that same venue plus the Final Four and Championship in Glendale, Ariz.
That's an increase from last year when Intel's VR unit broadcast just three games: the Final Four and Championship tilts, the first time March Madness was live in VR.
WITH TWITTER STREAMING DEAL, PROFESSIONAL VIDEO GAMING GETS MORE SOCIAL
While the 2016 games were free, fans this year will have to buy a virtual seat courtside. "We believe fans will pay for a robust, unique experience so we are launching what we think is the first sports-related virtual ticket," David Aufhauser, managing director of strategy and product, Intel Sports Group, told Fox News in an interview.
Fans can download the free NCAA March Madness Live VR app in the Oculus store. It will work with Samsung Gear VR.
Intel True VR will utilize camera pods consisting of 12 cameras per pod to deliver a total of up to 48 cameras devoted to Sweet 16 and Elite 8 games and 84 cameras covering the Final Four National Semifinals and National Championship.
PGA TOUR TAPS INTEL TECHNOLOGY TO DRIVE GOLF INTO VIRTUAL REALITY
It will no doubt be far cheaper than actually getting into the game in Glendale - the Real VR experiences will set you back $2.99 per game or $7.99 to buy the bundle of all six games that Intel will broadcast in virtual reality.
The Gold package seats fans courtside with their favorite team, pumps in audio from inside the arena and offers the viewer choices of multiple camera angles plus dedicated game commentary for the VR experience to help guide viewers in VR. It also allows fans to select a produced point of view, where producers select the shots.
"We're creating an entirely new way for fans to experience content, a different way to tell that story… by allowing fans to have a personalized experience," Aufhauser said.
TEEING OFF WITH THE FIRST SMART GOLF CLUB
The Intel executive added, "The chance for fans to put on this new medium and feel like they are at the game…and say, 'I want to sit on the Carolina bench or near the Arizona bench or near the band," and instantly choose and change the point of view and feel like you're watching everything and have the audio tell you what's happening, I think fans are going to be incredibly excited."
The Silver package runs $1.99/game and offers fans a single courtside camera view (180-degree live stream) with simulcast commentary from the CBS broadcast crew.
Skeptics wonder if fans will keep VR headsets on for an entire game. Aufhauser said, "It's an evolution. I'd expect it to be a part of a fan's overall March Madness live experience … the ability to watch on mobile, different devices, and experience in VR now.
Let's Run It Back
Additionally, Intel's 360 replay technology will be utilized during the title tilt. The company will capture game footage of the finale by employing 28 5K ultra-high definition cameras coupled with Intel-based servers capable of processing up to one terabyte of data per 15 to 30-second clip. The special replay was used during the Fox Sports broadcast during Super Bowl LI last month as well as last year's NBA playoffs.
FOR THE LATEST TECH FEATURES FOLLOW FOX NEWS TECH ON FACEBOOK
Will Funk, executive vice president of property marketing and corporate partnerships for Turner Sports, said, "Intel's virtual reality and 360 replay technology provide NCAA fans the most innovative viewing experience imaginable. Our partnership with Intel will provide an unrivaled opportunity for technological advancements across the college sports landscape."
And while Intel has done some tests with the PGA TOUR and others, Aufhauser said it's too early to comment on future partnerships or expanding beyond March Madness next season. But he did predict growth from last year's first foray into NCAA hoops, "This multi-year deal provides the opportunity to build. If you take what we did last year (three games) and we built on that, we'll certainly do more. We'll figure out what fans like and what they don't."