Is Facebook E-Mail Coming?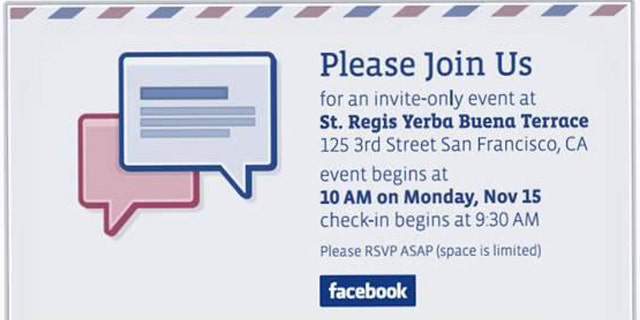 Facebook has invited reporters to yet another event next week -- possibly to announce a new e-mail service.
The invitation reveals no details about the event, other than to say that it is planned in advance of a presentation Mark Zuckerberg will make at the Web 2.0 Summit on Tuesday. But according to a report on TechCrunch, Facebook will unveil a new e-mail service referred to internally as a "Gmail killer."
Techcrunch wrote about the secret project, code-named Project Titan, almost a year ago, describing it as a full-featured webmail product that will offer @facebook e-mail addresses tied into a user's log-in or vanity address.
The tech news site wrote that the e-mail offering will be more than just a refresh of Facebook's existing instant-messaging service. "Rather, Facebook is building a full-fledged webmail client, and while it may only be in early stages come its launch Monday, there's a huge amount of potential here."
Techcrunch pointed out that Facebook's skills in social networking could play a very useful role in the world of e-mail: "Facebook knows who your friends are and how closely you're connected to them; it can probably do a pretty good job figuring out which personal e-mails you want to read most and prioritizing them accordingly."
Intrigued? We are too. FoxNews.com will cover the event live on Monday, Nov. 16, both here and on Twitter.