Incredible! Nerd! Stunts!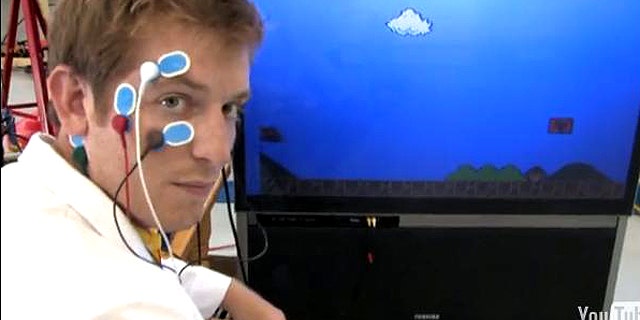 Want to see the technology of the future? Just watch the nerds at play.
A group of engineers in Austin, Texas, has posted a series of wacky projects on YouTube demonstrating the zany fun of experimental technology -- think video games you can control with your eyes or cars you can pilot using just an iPhone app.
It can all be done, and the geeks will show us the way.
Dubbed Waterloo Labs (after the original name of Austin), the group uses existing, off-the-shelf technology -- and a lot of imagination -- to create extraordinary things. The engineers then post their geeky stunts on the video-sharing website, along with instructions on how to do it yourself.
"We're phone support technicians by day and mad scientists by night," said Hunter Smith, an applications engineer and one of four team leaders at Waterloo Labs. Smith and his cohorts work for National Instruments, meaning the group has access to the company's equipment and technology, with support from their bosses for the after-hours projects.
Waterloo Labs' latest creation is the eyeMario, a Rube Goldberg-like patchwork of hardware and software that allows you to play the popular Nintendo game Mario Bros (or any game for the NES game console) with just the movements of your eyes. In the funky system, electrodes attached to your face detect voltage changes in the skin caused by eye rotations.
The system was based on National Instruments Singleboard RIO computer board, a Nintendo game system, and software the collective created using their company's LabView program. The result: a video game that goes way, way beyond hand-held motion controllers by letting players make Mario jump simply by glancing up or having him jog by just looking to the right.
Waterloo Labs -- the company's motto is "Engineering a whole lot of Awesome" -- also garnered notoriety for its iPhone-controlled car.
Sitting (and occasionally standing) on the roof of an Oldsmobile Delta 88 that they bought for $300 on Craigslist, the engineers drove the vehicle simply by sliding their fingers on the iPhone's touch screen. The remote-controlled car worked just like something in a Hollywood special effects scene, but the engineers used readily available parts -- such as motors ripped from the car's own power windows, a wrench to depress the gas pedal, and a motorcycle chain to turn the steering column.
"We could have just tapped into the car's computer," admits Smith, "but we wanted to make it really approachable."
So what's next for the young mad scientists? A flying video game? A riderless motorcycle? Smith says the group is considering about 30 different projects. Many end up being chosen simply for the challenge of disproving skeptics who say it can't be done.
"But our main goal," says Smith, "is to make it fun."
Follow John R. Quain on Twitter @jqontech or find more tech coverage at J-Q.com.