How 'Big Data' could help TV networks make better shows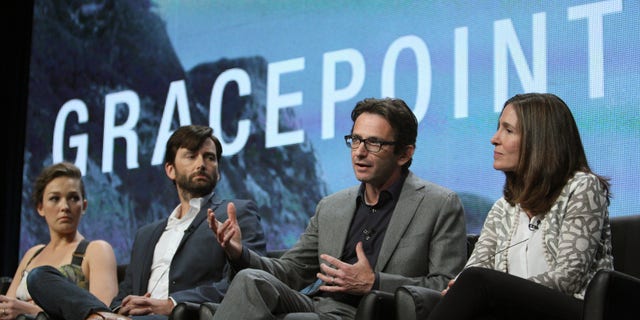 NEWYou can now listen to Fox News articles!
The fall TV season has started with a big bang. Returning shows like "Law & Order: SVU" and "Person of Interest" already have a large audience ready for another season. But new shows like "Gracepoint" on FOX or "Scorpion" on CBS, have a tough road ahead. They need to become big hits right away, or they could wind up getting the ax.
Big Data experts say there's a better way to ensure success. The concept – collecting and analyzing massive amounts of data to inform decisions – is already used to display ads in Facebook based on data collected about your preferences. It's also used to analyze traffic congestion in major cities to determine where to build new roads.
The next step for the major networks: making a better TV show.
Netflix has already experimented with Big Data to make their latest shows that stream over the Internet. In his book "The Naked Future," Patrick Tucker says the online streaming site collected data about people who like political shows, BBC dramas, director David Fincher (of "Gone Girl") and actor Kevin Spacey to create the show "House of Cards." It quickly became a major hit -- and ushered in the age of "binge" watching where people watch every episode in succession.
"Americans produce 1.8 million megabytes of digital data each year," Tucker told FoxNews.com. "All of it could give an indication of what mood we are in, what sort of story we would receive well, what experiences we have had recently and what we could identify with. The possibility exists for the perfect television show, but that will vary tremendously depending on the person, the time of day and other pieces of information."
ABC's "Selfie" has all the hallmarks of a show created after analyzing Big Data. It's tailor-made for those who love social networking, taking selfies and watching Karen Gillan, who played the sidekick on "Doctor Who."
"It's likely that ABC looked at its own data, Nielsen ratings and even third-party metadata to inform its choice of "Selfie," says Phil Simon, author "The Visual Organization: Data Visualization, Big Data, and the Quest for Better Decisions."
Mike Stringer, co-founder of the Big Data company Datascope, says it's likely Amazon collects data about viewers and their product preferences to make new shows. In fact, many of our online activities are already collected and analyzed – such as when we read an e-book (and when we stop reading it) or pause a TV show.
"These interactions are being recorded," Stringer explained. "Some media creators are beginning to use this information to inform their content, but it's still at an early stage. Not analyzing data to determine what people want is a missed opportunity."
The experts all said the major networks use Big Data to drive advertising. When a brand new Camaro pulls up in the next episode of Hawaii Five-0, it's no coincidence because the networks have profiled the target audience and collected data about their interests. The next frontier? Tucker says the major networks could dive into the data like Netflix did with House of Cards to find out what you really want to see in a fall season, which actors you prefer and which storylines you like the best.
"If you are watching an episode of Game of Thrones on your laptop and, when the episode is done, you navigate to Amazon.com to buy George R.R. Martin books or maybe to Expedia.com to look up tickets to Croatia (where the show is partially filmed), then you are giving HBO a clear a signal that you were affected by the episode," he says.
We might end up feeling like we're being led along by a carrot on a string. But at least it's a carrot they know we will love – and keep chasing into the next fall TV season.