Gunshot detection technology fights crime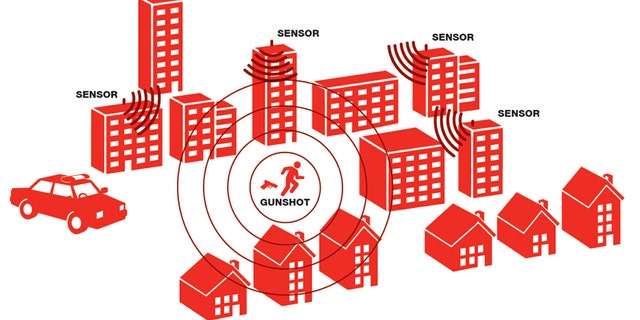 Officials in New York City recently announced plans to launch a two-year pilot program to test a high-tech gunshot detection system that can determine where and when shots have been fired and will enable police to dispatch response teams more effectively.
The system is called ShotSpotter, and when it is deployed, New York will become just the latest of many cities in the U.S. that are using the technology.
ShotSpotter, from Newark, Calif.-based SST Inc., uses "acoustic sensors" – powerful microphones and related equipment – to track the exact location of a gunshot-like sound. It then uses algorithms to determine whether the noise was emitted by a firearm, a fireworks display or a car backfiring.
Last year, ShotSpotter recorded a total of 51,000 gunshots in cities in the U.S.
Oakland, Calif., has counted just under 2,000 gunshots this year alone, including 565 in January, all from the illegal use of a firearm within city limits. In South Bend, Ind., which installed ShotSpotter in January and so far has detected about 250 shots within a high-crime area of about 3 square miles, the technology has helped police determine when someone is shooting practice rounds with a high-powered firearm – which the police say is usually a precursor to a homicide.
South Bend Police Chief Ron Teachman says combining ShotSpotter detection with reports from citizens has helped deter crime in the city. He said police collect illegally used guns in 50 percent of cases detected by ShotSpotter; the figure is just 6 percent when there is only a citizen's report.
Ralph Clark, ShotSpotter's CEO, told FoxNews.com the system's detection is accurate to within about 30 feet, and its main purpose is to deter crime. When it detects gunshots, police respond to the area, knock on doors and look for suspects.
"Many of our communities have become war zones," Clark said. "There's a higher intensity of gun violence and increased community-based PTSD (post-traumatic stress disorder), where people are worried about just walking home."
Clark says he doesn't care about the issue of owning and using firearms. He says the technology is intended to detect their illegal use within cities.
Can detection deter crime?
ShotSpotter is not a new technology, but Clark says its sensors are more accurate than ever. They use new wireless technology that enables each acoustic sensor to communicate directly with others, making sure the signal is always available. In some cases there are 15 to 20 sensors installed for every square mile of a city.
Clark says a ShotSpotter technician verifies each detection report before passing on the results to the police, which helps reduce the number of false positives.
According to Teachman, the main benefit is in detecting gunfire the police were not aware of, collecting evidence and deterring crime by responding faster and establishing a better rapport with citizens when they see police responding to gunshots in their neighborhood.
"How can you have a meaningful relationship and build collaboration when policing if the community has an opinion that you don't care about them because they don't see you respond when they hear gunfire?" he said.
"ShotSpotter enables us to know about the gunfire and respond in near real time – to knock on doors four or five houses in every direction."
But not everyone thinks gunshot detection technology is a great idea.
Matt Sweetwood, who owns a photo business in Fairfield, New Jersey, says gunshot detection is an invasion of privacy, because no one can be 100 percent certain that a gun has been fired at a private residence.
"The issue is not the technology, but the rules that are applied to it," he said. "Governments should be required to get a warrant to be able to monitor a private residence or business. I see this as no different from monitoring a cellphone, or email, or your mail."
Teachman said any perception about community monitoring is offset by faster response times. But as South Bend has not yet released data comparing gun violence incidences before and after it installed ShotSpotter, and as New York City is still deploying the tech, whether the system will succeed in curbing violence remains to be seen – and heard.