Google search connects Trump's book to Hitler's 'Mein Kampf'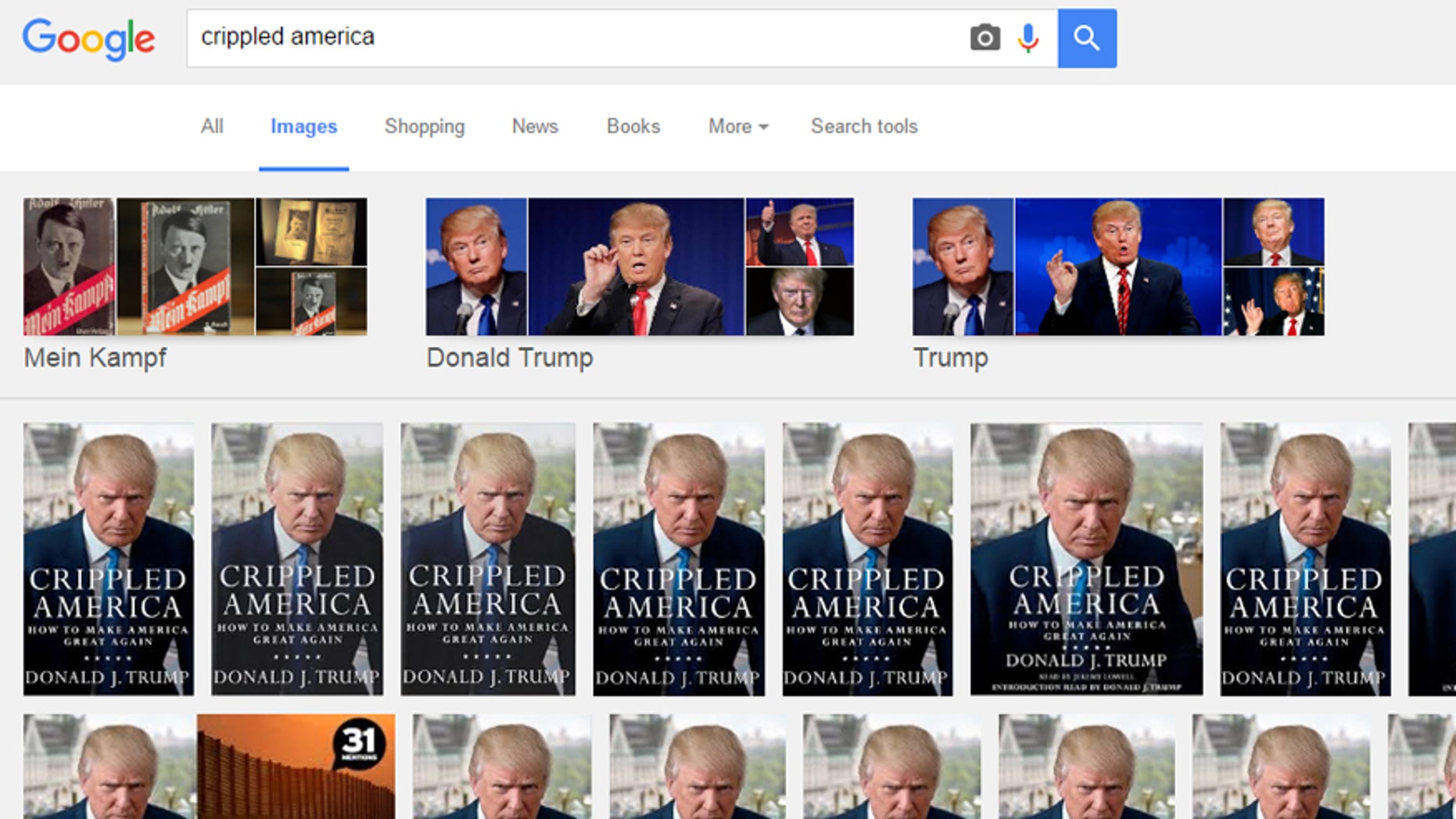 This story has been updated to reflect the removal of the "Mein Kampf" image and to include a statement from Google. 
Google's search function has been thrust into the spotlight again for connecting Donald Trump and Adolf Hitler.  On Wednesday, typing the name of Trump's 2015 book "Crippled America" into a Google image search, in addition to bringing up images of that book, displayed images of Adolf Hitler's 1920s manifesto "Mein Kampf." (The "Mein Kampf" images have since been removed.)
Google has been in the spotlight before for a connection between Trump and the infamous Nazi leader. In June, Googling the phrase "When was Hitler born" also produced an image of Donald Trump and listed his birthday. In that case, Google said it removed the Trump image, and a recent search confirms that the candidate's image is no longer connected with Hitler's birthday.
However, the Google image search connection between Trump's book and the dictator's manifesto may have been present for months. In December, the website "The Pulse 2016" reported the same conjunction of images.
The results that Google searches generate could well be affected by the fact that some critics of Trump have made a comparison between the Republican nominee for president and Hitler. For example, a recent Google search of the two men's names yielded over 21 million hits.
Google has also previously been accused of bias in its autocomplete feature, specifically in regards to a search related to Democratic presidential nominee Hillary Clinton. The search engine giant published a blog item in June saying that their "autocomplete algorithm is designed to avoid completing a search for a person's name with terms that are offensive or disparaging." Google also told FoxNews.com in June in an emailed statement that "Google Autocomplete does not favor any candidate or cause."
In response to an inquiry about the "Mein Kampf" images, a Google spokesperson told FoxNews.com: "When you conduct an Image Search, we display results for your specific query as well as possible ways to refine or follow up on your search. These are generated by an algorithm based primarily on what others who have searched for your particular query have also searched for. This means that sometimes unexpected or sensitive subject matter may appear for a given query. We are always working to improve our Search results."