From Hollywood to porn: Film makers tap drones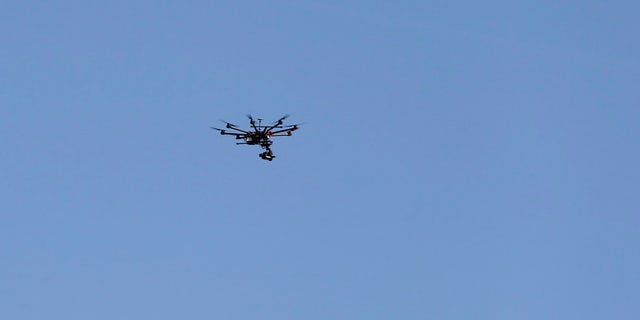 Drones, or UAVs (Unmanned Aerial Vehicles), have been used to take incredible footage of sweeping vistas and wild stunts for nature documentaries, big budget action films, music videos, and now – wait for it — porn. Brooklyn-based Ghost+Cow Films just released "Drone Boning," a drone-shot short film that features stunning aerial views of locations shot in and around San Francisco with one added caveat – amid scenic images of mountains and picturesque beaches, are couples having sex. The couples featured in the film look like tiny specs against the impressive backdrops, making the film something of a pornographic "Where's Waldo," the filmmakers told Vice.
"We wanted to explore the whole idea of drone privacy and strikes – this idea of 'make porn, not war,' " said Brandon LaGanke, who worked on the film with John Carlucci. "It started as a kind of funny commentary on privacy and voyeurism, but it quickly became a conceptual grounding."
This isn't the typical pornographic film. For instance, much of the sex captured on film is simulated, and there are no close ups on any of the couples. Nevertheless, the short attracted some controversy during filming.
"A lady walked up to us and said, 'Are you seriously shooting porn on my beach where I walk my dog and kid?" LaGanke told Vice. "We couldn't even talk to her, we only got one shot off."
The film has been making the Internet rounds, and unlike a lot of other pornographic films, LaGanke and Carlucci's work has been drawing more attention to the quality of its drone-shot cinematography than the moments that make it rather inappropriate office viewing.
While drone footage and pornography aren't two words that would normally go together, UAV technology is quickly becoming a staple for filmmakers hoping to capture a visual perspective not easily viewed on the screen.
The latest music video from indie band OK Go – known for their inventive videos – is captured in one continuous shot by a drone's camera. Splashier Hollywood productions like James Bond flick "Skyfall" and even "Harry Potter and the Chamber of Secrets" have relied on drone-based cameras for some of their most visually thrilling scenes. Something else that all of these films have in common is the fact that none of their drone footage was shot in the U.S.
The Federal Aviation Administration has tight restrictions on the commercial use of drones in the U.S. It's a stumbling block for media and film companies hoping to take advantage of the technology that has been growing in popularity over the past few years. In September, the FAA allowed the restricted use drones for film and television locations in the U.S.
The FAA's move to bring drones to Hollywood has been tentative. So far, drones are only allowed on closed sets, and certified pilots have to be the ones to physically operate the UAVs. Drones that are used on film sets are only allowed to travel up to 400 feet within the line of sight, and filmmakers have to give the FAA notice ahead of time before using drones for their productions in order to alert regional air traffic controllers.
For LaGanke and Carlucci, whether shooting porn or not, the drone camera offered a perspective not normally seen.
"We wanted to see the artistic value of this perspective," Carlucci told Vice. "It's an omniscient point of view, really. We did these shots in places where you couldn't see much from the ground, but then you put a drone in the air and you can see what's happening."