Fresh spin on the vinyl revolution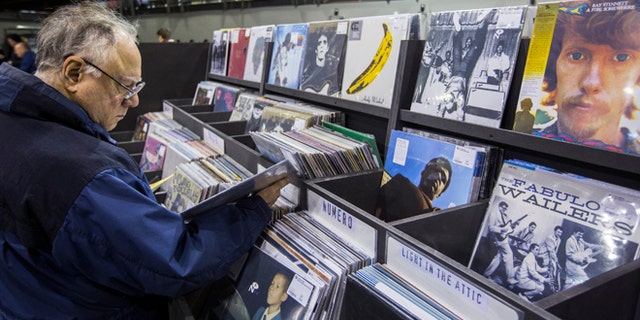 Saturday marks the seventh annual Record Store Day, a celebration of independently owned record stores throughout the world, and digital-era entrepreneurs are using new technology to put a fresh spin on the old platter.
Vinyl records became old-school the minute CDs hit the shelves a few decades ago. But they never vanished. Audiophiles say there's nothing like vinyl, and now they're an integral part of Saturday's events as shops sell limited-run, special edition and live records.
Record Store Day helped vinyl albums record 6.1 million sales last year, up 33 percent from 2012 and the most on record since Nielsen SoundScan started keeping track in 1993.
That's still a far cry from the disco-era peak – 344 million LPs and EPs shipped in 1977, according to the Recording Industry Association of America. But sales growth has accelerated in the past few years – it's doubled since 2010 – along with the proliferation of new business tools available to startups.
One example is turntable maker U-Turn Audio, which used crowdfunding to get its project off the ground, manufacturing advances to create record players and social media to generate sales momentum.
"I don't know if something like this would've been possible 10 years ago," says U-Turn co-founder Ben Carter. "3D printing and rapid prototyping technologies weren't available, (and) we wouldn't have had much success going to venture capital and asking them to fund our turntable company."
The Woburn, Mass., firm was founded just about 18 months ago by Carter, Bob Hertig and Peter Maltzan, who discovered vinyl when they were high school buddies and played records on their parents' turntables. Carter says they launched U-Turn after college and started making turntables because "there wasn't a good (inexpensive) solution for many young listeners. There are some made in Asia that don't sound good and hurt records."
U-Turn started with $12,500 in awards from Northeastern University (where Hertig studied engineering), and its Kickstarter campaign raised nearly four times the solicited amount – 1,133 backers pledged $233,940 to fund the first batch of turntables.
The company's well-reviewed Orbit starts at $179 for the basic model, and the 26-year old Carter claims it's easy to set up. "You don't have to install the cartridge; we calibrate it. It's ready to play right out of the box. You can play it in 30 seconds (with a pre-amp or phono-compatible receiver)."
Carter said the motor and some other parts aren't available domestically, but about three-quarters of the company's turntable parts are made in the U.S.
Carter says U-Turn has sold thousands of record players – it's well-reviewed Orbit starts at $179 for the basic model – and wants to sell in record stores after working through a six-week direct order backlog. "You can't work in this space and not be in indie record stores," he said. "They are the lifeblood of the vinyl community offline."
Record stores remain a source of music discovery and celebration, but they have been vanishing since digital download sales eclipsed CDs. Hence the Record Store Day festivities, and enter Vinyl Me, Please, founded by a couple of 26-year-olds who want to send you vinyl, wherever you are, by bringing back the music club five years after BMG shuttered its CD club (which originally offered vinyl).
And that's not all. Save your pennies, because it'll cost you $27 a month to have exclusive pressings mailed to your door, with digital download codes and suggested drink pairings, courtesy of Vinyl & Cocktails. Its first 16 releases genre-hopped from soul to folk to electronic and featured a reissue of Thelonius Monk's "Paris 1969." "Our only criteria, it has to be brilliant from start to finish," says Vinyl Me, Please co-founder and CEO Matt Fiedler.
With more than 600 members, co-founder Tyler Barstow says the club can influence labels. "We're running color vinyl for a lot of bands …We're talking to labels about custom artwork and now that our orders are bigger, they're open to ideas about making them exclusive."
Barstow says the company is cash-flow positive and can grow. And that's why it's trying radio ads now after using word of mouth and social media last year and not spending even a dollar on marketing.
That's a smart strategy, says Andrew Dreskin, who pioneered online ticketing at TicketWeb and is the co-founder/CEO of the live event tech company Ticketfly. "These guys are doing what they should, utilizing two of the most important tools – Kickstarter and social media – to get an analog property off the ground. It's a fantastic marriage of digital and analog."
Brick and mortar shops are also using tech to boost business. Sebastian Mathews quit managing screenwriters and opened Touch Vinyl in Los Angeles almost two years ago. He frequently consults Discogs.com, a Wikipedia-like site for vinyl pricing that also matches buyers and sellers of rare records.
"It helps me know if I'm putting a fair or unfair price on a record," Mathews says. As for social media, "If we tweet or post on Facebook, there's a chance that thousands upon thousands of people will see it, which is lucky for our generation."
Says Rachael McGovern, digital marketing manager at LA-based Amoeba Music, "Our social media communities have been incredibly valuable tools for us … increasing our sales, both online and in our three stores."
But can a new generation of digerati transport vinyl back to the heady days of "Saturday Night Fever"? Even vinyl supporters are skeptical. "I don't think the horizon is expansive," says Grant McCallum, director of new media at the Seattle indie music label Barsuk Records. "I think there's room for continued growth, and you'll see sales grow for a few years, but I don't think we're going to convert an entire generation of kids to spinning wax."
But don't underestimate the 137-year-old phonograph, McCallum says. "People thought vinyl was a dead medium, but now it seems pretty interesting. I don't think there will ever be another medium like it."
U-Turn's Carter says digital technology is great but the analog experience is singular. "You listen to vinyl and you remember why music is so great. It's easy to forget when you're cruising through your iPhone for playlists."