Fox News Launches Android Application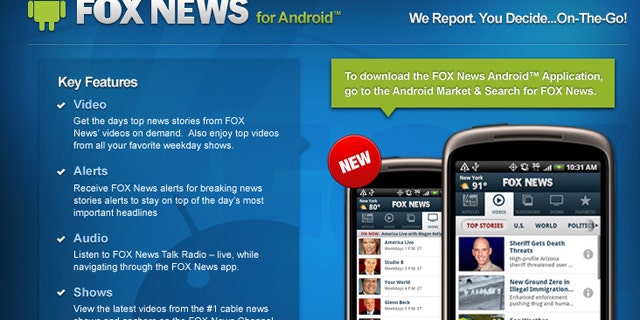 If you're a Google phone user, accessing Fox News just got easier.
Fox News -- already available on most mobile phones -- launched its Android application Wednesday allowing smartphone owners to access the latest headlines with the touch of a button.
And it's completely free.
The app features Fox News alerts with breaking developments on the day's most important stories, news from the U.S. and around the world, Fox News talk radio, photos and video. A shows section features highlights from Fox programs.
Ross Rubin, executive director of Industry Analysis for NPD Group, said news breaks 24 hours a day and it's becoming increasingly popular to open up a browser or application to see what the latest news stories are.
A recent PEW study found that over one-third of smartphone owners get their news on a mobile device. The market research company comScore says there are nearly 50 million smartphone users in the U.S.
Google says it activates 160,000 Android devices each day.
The Fox News app can be downloaded on the Android Market. Non-Android users can visit FoxNews.com on their mobile device.