Fix mislabeled song info, add album art and more with Tune Up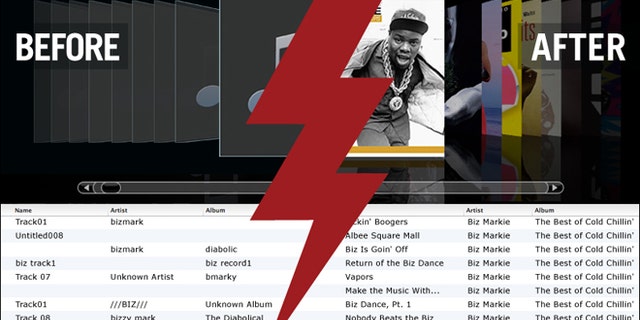 iTunes is the most popular music store in the world but it's not without its problems.
One of my biggest frustrations has been the clutter factor: Sometimes album art is there, sometimes it's not. Sometimes there are duplicates of a song, and sometimes songs aren't labeled at all.
One company aims to fix all of that.
It's called Tune Up and you can find it at tuneupmedia.com. It's a simple yet powerful tool that will clean up your iTunes music library or your Windows Media Player library.
First tap then "Clean" button. The program actually listens to your music to give you the most accurate results. It'll will find generically labelled tracks with names like "1.mp3" or "8.mp3" and give them proper names, like "I'm a loser.mp3" -- one of my favorite Beatles tunes.
And instead of your media player listing that as a work from "unknown artist," it'll put the actual name of the musician or band.
Next tap the "Deduper" button. This will eliminate the four extra versions you've been keeping of the same song. There's no need to have half a dozen copies of George Michael's "Careless Whisper." One is probably enough, no?
Perhaps my favorite feature is Tune Up's cover art cleaner. I hate those blank grey album covers. Tune Up will go through all of your tracks and albums and add the correct album art.
And finally, Tune Up uses a feature called Tuneverse which learns your favorite music to provide concert and show information about your favorite artists and bands.
You can try Tune Up for free or pay for a lifetime membership for 49 dollars. Not bad for cleaning up a program I use every day.
Clayton Morris is a Fox and Friends host. Follow Clayton's adventures online on Twitter @ClaytonMorris and by reading his daily updates at his blog.