Facebook fined $122M over WhatsApp privacy dispute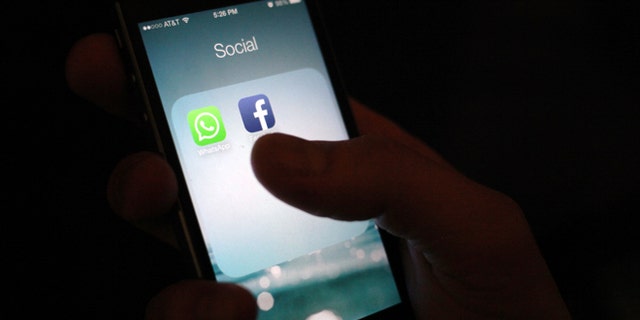 The European Commission fined Facebook $122 million over providing "incorrect or misleading" information relating to its WhatsApp acquisition in 2014 after the social networking giant automatically matched user accounts between the two platforms.
Prior to the acquisition, Facebook ensured the EC that it would not link the accounts together and in responding to the fine, the Mark Zuckerberg-led company said the errors were not done on purpose.
WHATSAPP BACK UP AFTER GLOBAL OUTAGE
However, the Commission released a statement, saying that Facebook violated rules of the merger, but that it would not reverse its decision to clear the purchase.
"Today's decision sends a clear signal to companies that they must comply with all aspects of EU merger rules, including the obligation to provide correct information," Commissioner Margrethe Vestager, in charge of competition policy, said in a release. "And it imposes a proportionate and deterrent fine on Facebook. The Commission must be able to take decisions about mergers' effects on competition in full knowledge of accurate facts."
In allowing a merger, the EU Merger Regulation asks companies during the investigation "to provide correct information that is not misleading as this is essential for the Commission to review mergers and takeovers in a timely and effective manner."
"The EU and individual European countries have always been more skeptical of Facebook's WhatsApp deal and more concerned about its ability to track users across its various apps than regulators elsewhere, and we've seen action earlier and even this week from other entities in Europe," said Jackdaw Research analyst Jan Dawson on his commentary site, Tech Narratives.
Dawson added, "The fact that the deal continues to be examined three years after the fact is a sign that the Commission has had some second thoughts about allowing it to go through, which is understandable given the massive growth in both the core Facebook apps and Instagram and WhatsApp since."
FACEBOOK FINED FOR ILLEGAL DATA SHARING IN FRANCE
The Commission has rules that could have fined the social networking giant up to 1% of its turnover -- a figure twice its $122 million fine -- but noted that Facebook cooperated with the investigation and the company "acknowledged its infringement of the rules," thus waiving its rights to have a hearing.
Facebook purchased WhatsApp, which now has more than 1 billion monthly active users, for $19 billion in cash and stock in 2014.
At that price tag, it is the third largest tech acquisition ever, only surpassed by HP's $33 billion purchase of Compaq in 2001 and Dell's $67 billion acquisition of EMC in 2015.