Extremely rare photo of Billy the Kid and Pat Garrett surfaces, could be worth millions
Frank Abrams had no idea he was getting his hands on a valuable piece of history when he bought a grainy 19th-century photo for $10 at a North Carolina flea market.
However, high-tech analysis of the group photo has revealed that it shows both Billy the Kid and his killer Pat Garrett, which could potentially mean that it is worth millions of dollars.
"This is completely unknown, that Garrett and Billy are in a picture together," Abrams, an attorney, told Fox News. "This is amazing, everybody is excited."
NEW IMAGE SHOWS BILLY THE KID PLAYING CROQUET
Abrams said that the tintype was in a set of photos that he purchased in Fletcher, North Carolina, in 2011. "It sat on my wall for four years or so," he added.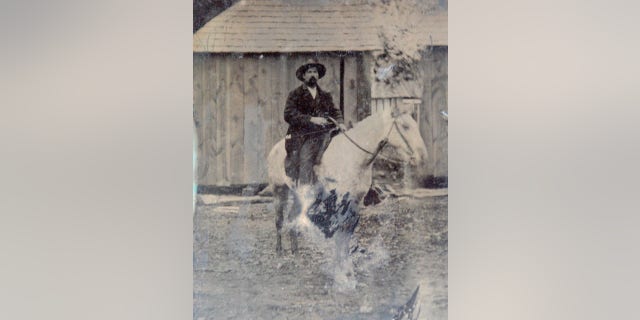 However, a National Geographic documentary in 2015 about the discovery of another photo showing Billy the Kid playing croquet prompted Abrams to take a closer look at his own photo. "The croquet story came out and I Google 'Billy the Kid' and I see Pat Garrett, and I look at him and I look at the picture and I say 'that's the same person'!"
Garrett, a former friend of Billy's who became a sheriff, famously gunned the outlaw down in Fort Sumner, New Mexico, in 1881. Born Henry McCarty, Billy the Kid also used the alias William Bonney. He was 21 years old when he died.
RARE PHOTO SHOWS JESSE JAMES WITH HIS KILLER, SAYS FORENSIC ARTIST
Abrams consulted a number of experts on the photo, which is dated Aug. 2, 1880. A forensic video expert in Los Angeles used facial recognition software on the image, which indicated that Garrett and Billy the Kid were both in the picture. A handwriting expert also compared a Garrett signature on the image to other documents known to have been signed by him and confirmed that it was the same person.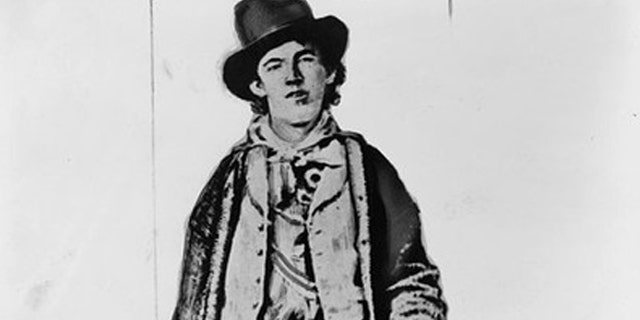 Abrams thinks that set of pictures once belonged to Pat Garrett's friend Marshall Ashmun Upson, better known as Ash Upson. The journalist and author was the ghostwriter of Garrett's book "The Authentic Life of Billy the Kid."
Another photo, for example, shows Upson on a horse - "ASH" is written on the back of the photo in handwriting identified as Garrett's. A third photo shows Upson's niece Florence Muzzy.
COUPLE DISCOVER 19TH-CENTURY LOG CABIN DURING HOME RENOVATION
There are very few images of Billy the Kid in existence. The photo of Billy playing croquet, for example, was appraised and insured for $5 million.
A portrait of Billy the Kid taken in Fort Sumner, in 1880, sold for $2.3 million in 2011. In that photo, Billy the Kid is packing a Colt revolver and 1873 Winchester Carbine rifle.
Abrams thinks that his group photo shows Billy, Garrett and their companions enjoying themselves. "They are all celebrating – they have cigars, they have booze," he said.
ARCHAEOLOGISTS MAKE 'EXCITING' DISCOVERY IN ALAMO DIG
Intriguingly, Abrams notes that a price tag may also be visible on Billy's the Kid's sweater. "It may be that Billy is saying 'there's a price on my head, so here's a price on my sweater'," he said.
Abrams told Fox News that the picture is now stored in a safe deposit box.
"I have never put a price on it, others can speculate from here to kingdom come," he said. "Whether it will be sold in the future will be a decision we will make when the right time comes around."
The Associated Press contributed to this article.
Follow James Rogers on Twitter @jamesjrogers