European Commission formally accused Google of monopolistic practices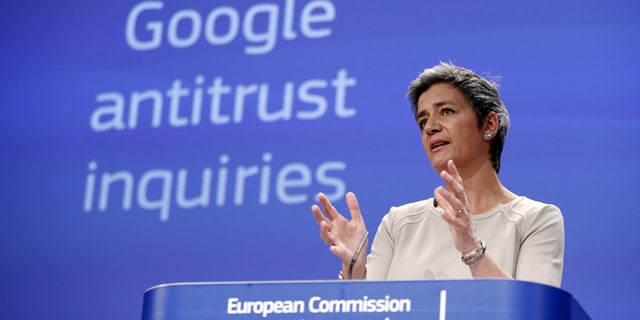 NEWYou can now listen to Fox News articles!
As widely predicted, the Brussels-based European Commission today formally accused Google of abusing its dominant market position to manipulate search results.
Regulators allege the company violated antitrust laws when it boosted the rankings of its shopping service "irrespective of its merits," as their statement read. "The commission is concerned that users do not necessarily see the most relevant results in response to queries -- to the detriment of consumers and rival comparison shopping services, as well as stifling innovation."
According to some analytics companies, more than 90 percent of searches in Europe are started on Google. The next nearest competitor, Bing, accounts for 2.67 percent.
Related: Google might have landed itself in hot antitrust waters with the EU
"Dominance as such is not a problem," the EU's antitrust chief, Margrethe Vestager, said at a press conference. "However, dominant companies have a responsibility not to abuse their market position either in the market where they are dominant or in neighboring markets," she said. "This is about consumers getting the best possible results of their query."
The suit's scope is limited to Google's manipulation of e-commerce listings for now, but EU antitrust chief Margrethe Vestager said the commission would "actively pursue" other areas of potential misconduct, such as "hotels or flights or maps." A separate investigation into Google's practices regarding Android is ongoing.
The EU's action follows failed negotiations between Google and the EU in September. Former antitrust commissioner Joaqun Almunia, initially supportive of a settlement, was forced to reverse course after facing vocal opposition from consumer groups, European press publishers, Microsoft, and colleagues.
Related: The Senate will investigate whether the White House let Google off the hook
The European Commission is no stranger to antitrust suits of this magnitude. It concluded a ten-year battle with Microsoft in 2004, which culminated in a $1.7 billion settlement. Separately, chip maker Intel was ordered to pay $1.4 billion.
European agencies aren't the only ones who consider some of Google's practices illegal. Documents inadvertently released earlier this year revealed that the U.S. Federal Trade Commission (FTC) once considered suing Google over anti-competitive conduct. The FTC began an investigation in 2012 into the way Google ranked and displayed search results, finding that the search giant took information from rival websites to improve its own content and placed illegal restrictions on third-party websites and advertisers. Some staff recommended bringing a lawsuit, but conflicting recommendations within the agency ultimately led it to scrap those plans.
Responding to the EU's accusations in a blog post, vice president of Google Search Amit Singhal said, "While Google may be the most used search engine, people can now find and access information in numerous ways -- and allegations of harm, for consumers and competitors, have proved to be wide of the mark."
"[We] look forward to making our case over the weeks ahead," he said.