E3 2017 schedule: Press conference dates, times, live streams and what to expect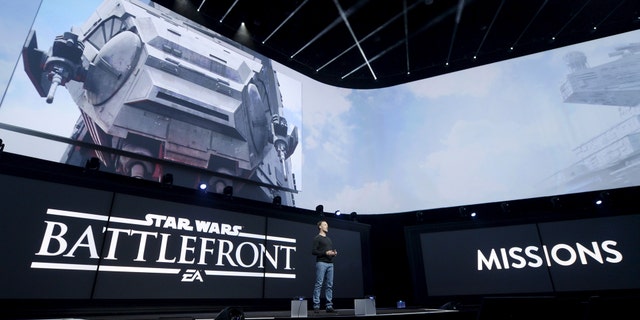 Although the show floor doesn't open until next week, E3 2017 officially kicks off this weekend as all of the major game companies host press conferences to show off the new games and new hardware they have lined up for the coming year. In fact, the show is beginning even earlier this year, as Electronic Arts has decided to get a jump on everyone else by holding its EA Play event on Saturday.
As we've done for the past several years, we're going to provide you with a schedule and a breakdown of all of the press conferences. This is everything you need to know about E3 2017.
| | | | |
| --- | --- | --- | --- |
| Conference | Date | Time (PT) | Live Stream |
| EA | Saturday, June 10th | 12:00 PM | EA Twitch Channel |
| Microsoft | Sunday, June 11th | 2:00 PM | Xbox Twitch Channel |
| Bethesda | Sunday, June 11th | 9:00 PM | Bethesda Twitch Channel |
| PC Gaming Show | Monday, June 12th | 10:00 AM | PCGamer Twitch Channel |
| Ubisoft | Monday, June 12th | 1:00 PM | Ubisoft Twitch Channel |
| Sony | Monday, June 12th | 6:00 PM | PlayStation Twitch Channel |
| Nintendo | Tuesday, June 13th | 9:00 AM | Nintendo Twitch Channel |
EA -- Saturday, June 10th -- 12:00 PM PT
To the frustration of everyone who had to book a flight and a hotel for E3 2017, EA decided to hold its press conference on Saturday this year. Coming off of a generally successful year in which Battlefield 1, Titanfall 2, Madden NFL 17 and FIFA 17 all received positive reviews, EA is looking to make an even bigger splash in 2017 with more Star Wars and the return of the Need for Speed franchise.
3 games we can't wait to see: Star Wars Battlefront II, Need for Speed Payback, NBA Live 18
Microsoft -- Sunday, June 11th -- 2:00 PM PT
Microsoft typically takes the Monday morning slot for its presser while Sony takes Monday night, but this year, Microsoft is following EA's lead and getting a head start. After watching Sony dominate the first half of the year with exclusives like Horizon Zero Dawn, Gravity Rush 2, Nioh, Nier: Automata and Persona 5, the Xbox team knew it needed to make a big splash in the second half. That's exactly what it plans on doing this Sunday, with the unveiling of Project Scorpio and a huge selection of new games.
3 games we can't wait to see: Crackdown 3, State of Decay 2, Sea of Thieves
Bethesda -- Sunday, June 11th -- 9:00 PM PT
Bethesda started holding its own E3 press conferences back in 2015, and despite the fact that even Nintendo still doesn't feel comfortable going up on stage for an hour or so, Bethesda will have its third straight presser at E3 2017. We really don't know what to expect, but the publisher has spent the past two conferences announcing games that are just weeks or months away from launch. In all likelihood, Bethesda will have another big game or two ready to reveal at the show this weekend.
3 games we hope to see: Wolfenstein: The New Colossus, The Evil Within 2, Something Elder Scrolls
Ubisoft -- Monday, June 12th -- 1:00 PM PT
Ubisoft's press conference might be the most stacked conference at E3 this year. We're going to see a new Assassin's Creed (after the series took a much-needed year off), a new numbered Far Cry (not a weird retread like Primal), a new South Park RPG (that finally has a release date) and a Mario/Rabbids crossover for the Switch that looks like one of the weirdest things ever conceived.
3 games we can't wait to see: Assassin's Creed Origins, Far Cry 5, Mario + Rabbids Kingdom Battle
Sony -- Monday, June 12th -- 6:00 PM PT
Other than a gold color option and price drop for the PS4, Sony isn't expected to show off any new hardware at E3 2017 this year. What it is expected to show off is plenty of new games. Sony has been trouncing Microsoft and Nintendo in recent years with huge game reveals like the Final Fantasy VII remake, the return of Crash Bandicoot and the resurrection of The Last Guardian. Now Sony has to compete with the Switch and Project Scorpio, which could make things interesting.
3 games we can't wait to see: Spider-Man, God of War, Days Gone
Nintendo -- Tuesday, June 13th -- 9:00 AM PT
Nintendo is on top of the world. The Switch is a smash hit, everyone loves the new Zelda and the NES Classic Edition went from being a fun limited edition product to one of the most wanted consoles on the planet. The question now is whether Nintendo can keep up this momentum for any length of time. Once again, Nintendo will not hold a traditional press conference at E3 2017, instead opting for a 30-minute pre-recorded Nintendo Spotlight video. We already know which Switch games Nintendo is planning to launch in 2017, but here's hoping that the company has some surprises in store for its stream.
3 games we can't wait to see: Super Mario Odyssey, Xenoblade Chronicles 2, Splatoon 2