Can I Stream It? A TV Guide for online video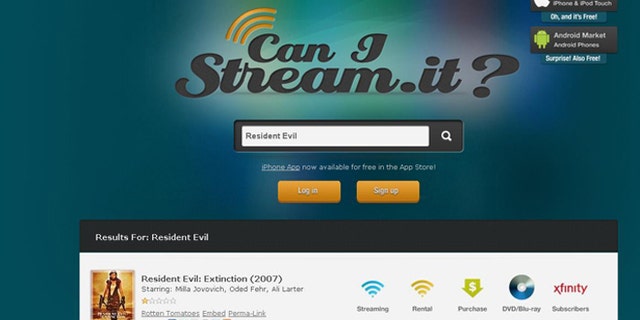 There's no bigger frustrations in the digital world than trying to figure out if that movie you want to watch is available to stream on your favorite service. With 80 different devices hooked up to our TVs it's no wonder our popcorn gets cold before we've found our favorite James Bond flick.
I haven't subscribed to TV Guide in years, but once upon a time, it was a really useful concept. It was a place where I could find what I wanted to watch and when I wanted to watch it.
I miss this experience when I am trying to stream something. Fortunately, a website called CanIStream.it comes pretty close to the TV Guide experience for the Internet.
If you're a techie like me, you probably have multiple accounts: Netflix is great for older films, children's programming, and TV shows but fails to carry a lot of new content. Hulu is perfect for new TV shows but has a paltry movie list. iTunes has just about everything but often forces you to buy a movie instead of rent it, which is frustrating if you pay a monthly fee to Netflix and Hulu and still find yourself paying a la carte. And Amazon Prime is a mixed bag as well with a lot of content but you have to dig in and search it yourself.
CanIStream.it aims to help you find the movie or TV show you want to watch in the blink of an eye. It does exactly what the name implies -- it answers the question: "Can I Stream It?" You search the name of a movie or TV show and it tells you where it's available to stream online.
It includes services such as Netflix, Hulu, iTunes, Vudu, YouTube, Redbox, HBO Go, Showtime and more. You can also see if the program is available to stream for free, download to own, or download to rent.
For instance, type in "Top Gun" and you'll see that is is available to stream on Netflix but not Amazon or Hulu just yet. If you can't find the movie you want just sign up and Can I Stream It? will send you an email alert when it's available.
Last night my wife and I wanted to watch the 2011 Steven Soderbergh spy thriller "Haywire" but we didn't know if it was out yet on Netflix. A simple search on CanIStream.it revealed that it was only available to rent or buy. In a matter of seconds I launched my Apple TV and rented the film on iTunes.
Before this Web site, we would have launched the Netflix app on our TV and searched the movie title, then hopped over to Amazon on the Roku to do yet another search, and then searched our Verizon FiOS account to see if it was available on demand before finally renting it on iTunes on the Apple TV. Too many steps! Thank goodness for this site!
I really don't know why TV Guide didn't do this years ago when it became clear that online content was going to be big.
CanIStream.iT is a free service on the web and the company released a couple of free apps for both the iPhone and Android devices. The mobile apps allow for push notifications, so when you're favorite movie is available you'll receive an alert on your phone.
Now I don't have to worry about the pizza going cold before the opening credits roll.
Clayton Morris is a Fox and Friends host. Follow Clayton's adventures online on Twitter @ClaytonMorris and by reading his daily updates at his blog.