British Man Convicted for Twitter Bomb 'Threat'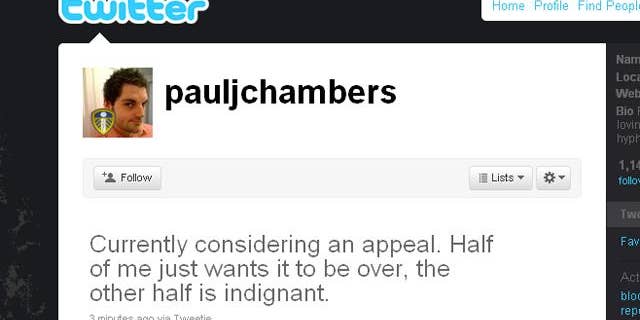 LONDON -- A court has convicted a British man of sending a menacing electronic communication for saying on Twitter that he would blow up an airport.
A judge at Doncaster Magistrates' Court ordered Paul Chambers to pay $1,500 in a fine and costs.
Chambers was arrested in January after he posted a message on the micro-blogging site saying he would blow Robin Hood Airport "sky high" if his flight was delayed.
The 26-year-old Chambers said the message was a joke.
The airport decided it was not a credible bomb threat, but passed the message on to police.
Chambers had pleaded not guilty to sending an offensive, indecent, obscene or menacing message over a public telecommunications network.