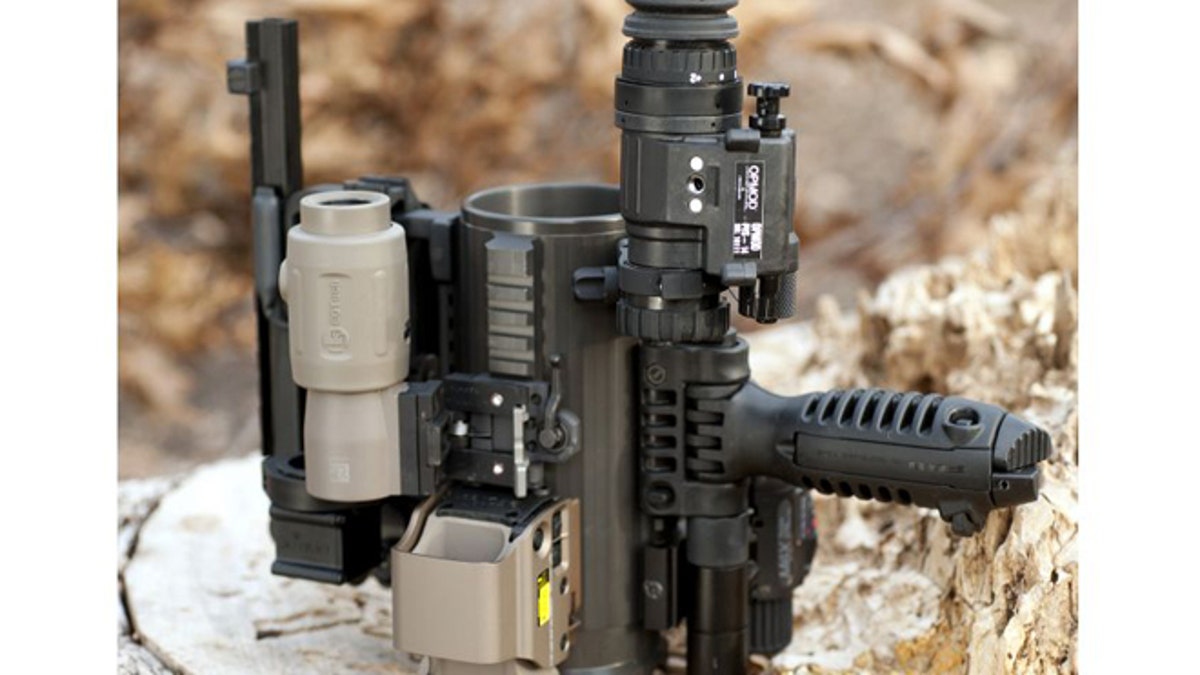 Forget beer goggles: How about a beer mug equipped with a night sight?
Made in the USA, OpticsPlanet's OPMOD Battle Mug is designed to carry both your favorite beverage AND your military essentials.
The company says it's just as good for fending off foes as kicking back with a beer.
"Venti-sized" at 24 ounces, it's perfectly suited for your morning coffee -- or something stronger. And three military-specification 1913 scope rails (used on firearms as a mounting platform for scopes or other items) clamped to the sides can hold something stronger, too.
The body of the mug itself is made out of a "block" of CNC-machined 6061 billet aluminum. Described by the company as "serious hard-core metal," it's essentially machined out of a 13.5-pound aluminum block. It has a Mil-Spec Type III anodized finish and a crenellated base -- and comes custom-engraved with its own unique serial number.
Rather than a standard mug handle, the Battle Mug comes with a removable "AR-15 carry handle" mounted on one of the mug's rails. AR- 15 is a type of Colt weapon, but is often used to refer to semi-automatic rifles in general.
So what can this mug hold that isn't frothy?
As with an automatic rifle, a holographic sight, laser sight and scopes can be added to enhance your next drink in a Battle Mug.
In a company demonstration, the OPMOD MPO II holosight with magnifier is shown attached to the mug; it's intended for close combat, so they went with a flip-to-side mount for mid-range capability.
Night-vision compatible, it's augmented by the PVS14 OPMOD night vision unit that can be held or mounted on a helmet … or in this case tacked onto the mug. In the company demo, they added an EOTech 3X magnifier for transition between close and medium range targets.
Insight Technology's M6X Tactical Laser Sight was also mounted, as was a "pressure pad." The M6X is waterproof to 66 feet, has 125 peak lumens and a run time of at least one continuous hour. And an anglesight and Trijicon night sight that makes it a cinch to aim and fire around corners.
The Battle Mug was rounded out with three lasers, carry handles, a CAA light, bipod and a bottle opener.
And at that point, the company suggests a CAA Single Point Molle Mounting Rifle Sling to deal with the weight of carrying around your loaded up Battle Mug.
In terms of terrain, the company indicates this Battle Mug was designed for soliders downrange. Senior Marketing Coordinator Alessandro Minnocci commented that the Battle Mug is "not only functional but also tactical. Functi-tactical."
Of course, hunters are more likely than warfighters to find this mug "tactical." If a special forces soldier showed up unironically with one, he'd most likely be mercilessly ridiculed by his colleagues while they taped the Battle Mug as permanently as possible to his mitt.
Indeed, it's unclear how this mug serves any purpose on a tactical level. Even drinking from it while fully loaded seems awkward.
Opticsplanet offers a few insights.
Steve Ledin, the company's director of technical sales and product intelligence, recommends loading the Battle Mug up with an Anglesight and taking it to a bar, so that "if you're looking for your bartender you can look at a 90 degree angle and get a good picture of her."
Ledin also suggests affixing a bipod as it is "very useful for sighting in the OPMOD Battle Mug as well as sharing frothy beverages."
Based in Illinois, OpticsPlanet.com customers include local law enforcement and U.S. government agencies as well as hunters.
The Battle Mug is available on opticsplanet.com for $250 -- making it one of the most expensive, least practical mugs on the planet.
But if you've got deep pockets and are looking for a gift for the hunter or soldier who has everything (including a sense of humor), the Battle Mug is the ticket.
Bottoms up!
Ballet dancer turned defense specialist Allison Barrie has travelled around the world covering the military, terrorism, weapons advancements and life on the front line. You can reach her at wargames@foxnews.com or follow her on Twitter @Allison_Barrie.