Surfing at a billion bits per second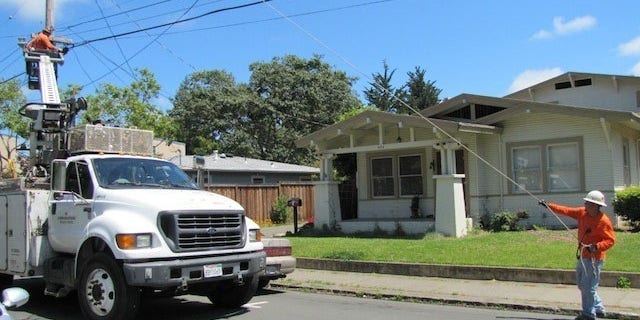 From the street in the town of Sebastopol, Calif., only one thing hints that a house there has among the fastest residential broadband sold in America: an extra wire off the telephone pole, notably thinner than the adjacent electric, telephone and cable-TV wires.
That fiber-optic cable provides on block in Sonoma County with downloads at up to one billion bits per second, or 1 Gbps. This service from Santa Rosa, Calif.-based Sonic.net will be available to the rest of Sebastopol and, later this year, the Sunset District of San Francisco. It only costs $69.95 a month. And its slower 100-million-bits-per-second service (still over six times quicker than my Verizon Fios connection) costs a mere $39.95 a month.
ANALYSIS: The Only "iPad 3" Story You Need to Read
At that price, anyone can sign up, not just hard-core techies who are used to paying a lot of dough for faster-than-50-Mbps services. I wrote about Sonic's service (and why something like it probably won't hit your street) in a feature for Ars Technica. In this piece for Discovery News, I'll talk about what it's actually like to have a connection that fast.
Videos play instantly. Almost all of the subscribers who let me into their homes when I went knocking on doors in late December mentioned what I noticed firsthand: On YouTube, that gray bar below the video fills in a blink instead of slowly buffering -- then the clip plays without ever hiccuping. (Even on my 15 Mbps Fios connection, I can't count on Netflix not pausing in the middle of a show.) Unsurprisingly, two customers said they'd dropped their TV services in favor of online-only viewing.
Downloads may not be so fast. The server hosting a file you're downloading sometimes can't send the data fast enough. One attempt to get a copy of the Linux operating system revealed transfers of 13.8 Mbps; another poked along at a woeful 375 kilobits per second, about .04 percent of the speed of the 1 Gbps connection to my laptop. But with the right server, you'll notice the speed: One 100-meg subscriber, who didn't give her name, commented that her son downloaded movies in about two minutes.
Speed-testing sites may not work. Right away, I tried checking Sonic's connection at Ookla's popular Speedtest.net. But it consistently reported download speeds of 40 Mbps or so on 100 Mbps connections; changing one of its settings did send its speedometer gauge redlining to almost 140 Mbps, but then it spat out an incorrect result of about 40 Mbps. The same site said a gigabit connection only hit 100 Mbps and change.
Ookla co-founder Doug Shuttles wrote that bottlenecks in the path from a computer to Speedtest's closest testing server could explain those results, adding that "Shifting to 1 Gbps makes this even trickier." A more specialized site, M-Lab, clocked a 100-meg connection at 97 Mbps.
PHOTOS: 10 Double-Duty iPhone Cases
Your own setup may hold you back. Many home computers need tweaking of their networking settings to handle a 1 Gbps connection -- as seen in the test result from a third diagnostic site, which shows a Windows XP laptop going about 600 Mbps on a gigabit link. Patching the connection through a wired router cut the reported speed again, to "only" 250 Mbps or so, about 17 times faster than my connection at home.
Web sites may still act sluggish. The Web can feel a little slow even at 100 million or one billion bits per second if sites include many different components hosted elsewhere -- ads from different ad services, widgets from various social networks, multimedia from still other servers. You can find yourself waiting for all of these ingredients to come together in your browser window... just not as long as you would on a lesser connection.