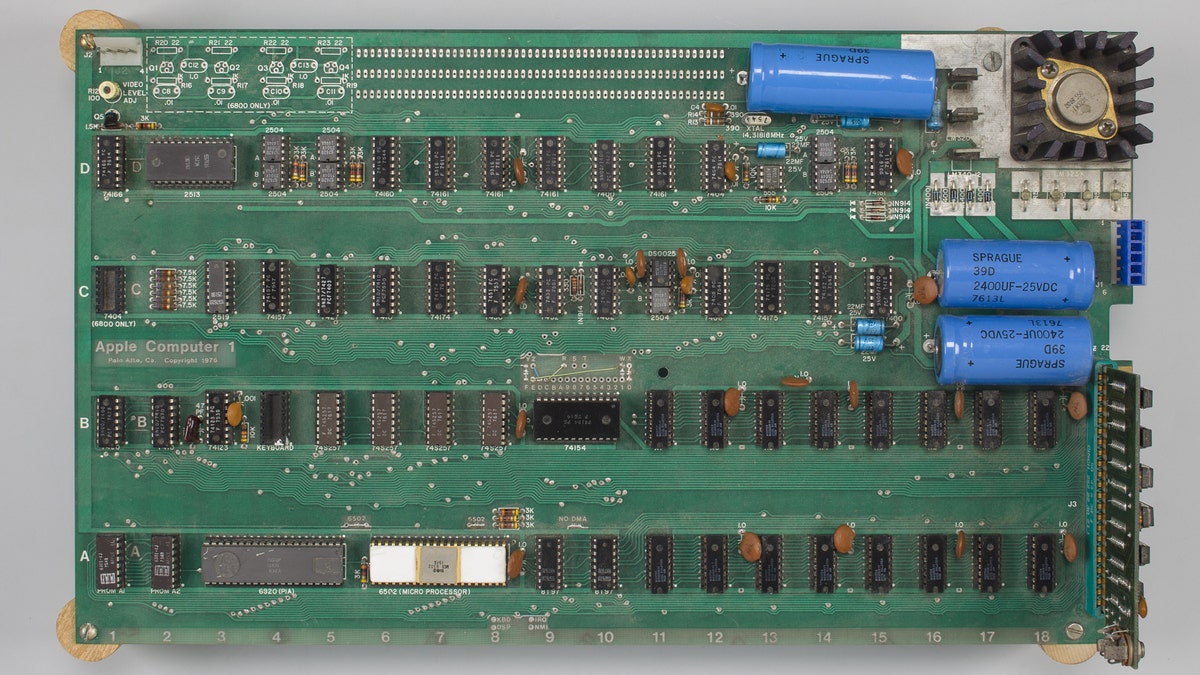 From one of the first Apple computers to a Charles Darwin letter discussing Barnacle sex, a major auction of technological and scientific artifacts this week will give a fascinating glimpse into the great minds that helped shape our world.
Spanning centuries, the 288 items in the sale are estimated to raise around $2 million when they go under the hammer at auction house Bonhams on Oct. 22.
One of the key items in the New York auction is one of the first Apple-1 computers, which still works, a product which helped lay the foundations for the Cupertino, Calif.-based consumer tech giant.
"This is pretty much on the top of the list for technological artifacts," Cassandra Hatton, Bonhams senior specialist in fine books, manuscripts, and the history of science, told FoxNews.com. "It's one of the first 50 Apple Computers that were made."
Bonhams estimates that the Apple-1 motherboard, which comes with a vintage keyboard, monitor, and power supply, will be sold for between $300,000 and $500,000. The seller is John Anderson, founder of the AppleSiders Apple user group in Cinncinati.
"It could very easily go to an institution or very easily go to a private collection," said Hatton, noting that that the last operational Apple-1 computer sold for $672,000.
Built in 1976 by Apple co-founder Steve Wozniak, the computer is still operational.
According to the Apple-1 Registry run by computer expert Mike Willegas, there are only 63 surviving authentic Apple-1's. Only 15 of the 63 are said to have been successfully operated since 2000.
"The condition on this is really just fantastic," said Hatton. "Hobbyists would really tinker with these things – so often, you see them burnt and scratched, but this is a really clean [mother] board."
A rare 1857 letter from Charles Darwin will also be auctioned this week. In the four-page letter to zoologist and dentist Charles Spence Bate, Darwin inquires about Barnacle reproduction.
"This is really a classic Charles Darwin piece," noted Hatton. "Darwin letters of this length are not commonly found."
Signed "C.Darwin," the letter forms part of the naturalist's extensive research into barnacles, which helped hone his theory of evolution.
The letter is expected to raise between $20,000 and $30,000 at auction.
Another item of great historical importance in the sale is a large viewing window from the Manhattan Project. Originally used to view the production of plutonium at a Manhattan Project's site in Hanford, Washington State, the 1500-pound window is six-inches thick.
Hatton told FoxNews.com that the window, which is not radioactive, is 70% lead oxide.
"Because the lead oxide is such a high percentage, it reacts more like a metal than glass," she explained. "If you took a grinder to the window, in the same way that a metal would crumble – it wouldn't shatter."
Bonhams predicts that the window will sell for between $150,000 and $250,000.
Other items on sale this week include the Helmholtz sound synthesizer, described as the world's first electric keyboard, and the extensive archive of pioneering astronomer George Willis Richey.
The auction house is also selling dozens of globes, some of which are miniature and date back to the eighteenth century. More modern items on sale include an Apple flag from the company's European headquarters in France and a portrait of Microsoft co-founder Bill Gates. Painted in 2000 for the cover of Wired magazine, the portrait has an estimated value of $700 to $900.
Follow James Rogers on Twitter @jamesjrogers