Apple's massive new iPhone could make history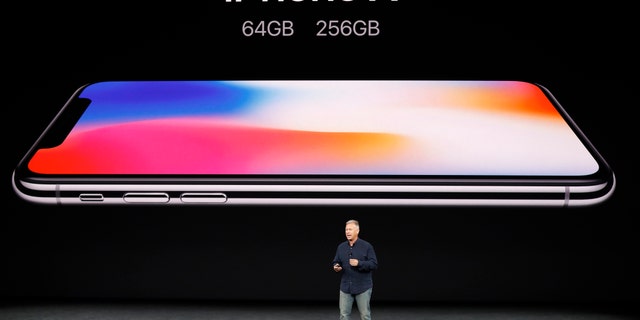 September is iPhone season and this year is no different, as Apple is set to unveil three new models on Wednesday, including its biggest iPhone ever — a phone that'll have a screen approaching 6.5 inches and a price tag to match.
At the product unveiling, which will be held at 1 p.m. ET in the Steve Jobs Theater in Cupertino, Calif., the star of the show may be a larger version of last year's iPhone X, which Bloomberg has reported could be called the iPhone Xs Max. In addition to the larger screen and different name, it could also include a newer processor and upgraded cameras.
The other two phones Apple is likely to introduce will be the 5.8-inch iPhone Xs and the iPhone Xr. This would be a lower-cost version of the iPhone X, which Bloomberg said "could be the hit of the product rollout."
THE APPLE EVENT ISN'T REALLY ABOUT THE IPHONE
Luxury iPhones
In a note to investors, Monness Crespi Hardt analyst Brian White said that the new phones will help "nudge more consumers into the luxury iPhone category."
"In our view, changing display sizes with a new iPhone rollout (vs. last year's 5.8-inch iPhone X, 5.5-inch iPhone 8 Plus and 4.7-inch iPhone 8) provides a catalyst for incremental consumer upgrades," White added in the investor note.
In addition to the larger screen sizes and upgraded internals, two of the new iPhones are expected to have OLED screens and could come with 512GB storage, a sore spot for many iPhone users who complain of deleting photos and apps to make space on their phones.
Pricing details have not been firmed up, but the consensus among Wall Street analysts is that the LCD iPhone will be between $699 and $749. The larger iPhone Xs Max could approach $1,200, a price comprable to Samsung's latest phone, the Galaxy Note 9, which starts at $1,000 and costs $1,250 for the 512GB model.
Apple recently expressed concern that some of its products, including the Apple Watch and AirPods could wind up costing consumers significantly more if the Trump administration were to go through with its latest rounds of tariffs on Chinese imports. In response, President Trump said there is "an easy solution" to solve the problem, calling for Apple to make its products in the U.S.
"Apple prices may increase because of the massive Tariffs we may be imposing on China — but there is an easy solution where there would be ZERO tax, and indeed a tax incentive," Trump tweeted. "Make your products in the United States instead of China. Start building new plants now. Exciting!"
Loup Ventures analyst Gene Munster said he does not expect Apple to be "materially impacted" by the pressure imposed by the administration, adding Apple is in "good standing" with the White House after it said earlier this year it would invest $350 billion in the U.S. over the next five years.
Last year, there was some concern that people would pay $1,000 or more for the 10th anniversary iPhone, dubbed the iPhone X. However, those fears have been put to bed, as CEO Tim Cook said the iPhone X, which has Face ID unlocking technology, a 5.8-inch screen and wireless charging "was the most popular iPhone ... once again" in Apple's most recent quarter.
STEVE JOBS' DAUGHTER RIPS HER 'COLD' FATHER IN NEW MEMOIR
Other Apple products to be announced
In addition to the three new iPhones, Apple is expected to refresh nearly its entire product portfolio at the event, including new Apple Watches, according to Monness Crespi Hardt's White.
"The Apple Watch usually gets an update at this time of the year and media reports have highlighted a larger-sized display on the Apple Watch Series 4, which we believe is reasonable," White wrote in the analyst note.
In addition, some other products which could be shown to the masses on Wednesday include two updated iPad Pro tablets, containing Face ID and slimmer bezels, Bloomberg reported. It is expected they will come in 11-inch and 12.9-sizes.
NEW IPAD PRO 2018 - EVERYTHING WE KNOW ABOUT THE IPAD X RELEASE DATE, SPECS, FEATURES AND PRICE REVEALED
Apple may also give more news about its AirPower Wireless Charger, which it first showed off last September but has yet to reveal. The wireless charging pad is capable of charging an iPhone, Apple Watch and the company's wireless headphones, AirPods, without plugging them in.
It is possible, though not probable, Apple could show off updates to its line of computers as well.
Apple may announce a new low-cost laptop to replace the popular MacBook Air, and an updated Mac mini, a computer Apple has not updated since 2014.
However, White said that because of the nature of the packed event, Apple "may have to wait until October" to introduce the new Macs.
Follow Chris Ciaccia on Twitter @Chris_Ciaccia