Apple responds to iPhone 5 Maps flap: 'It will get better'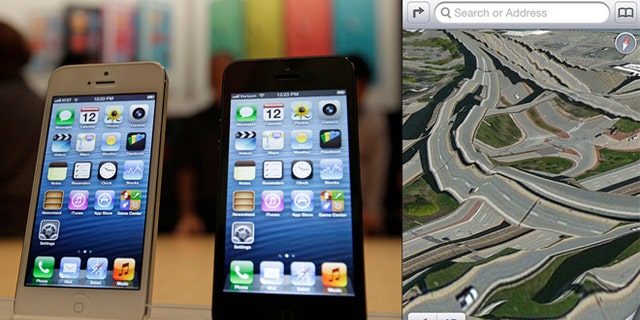 Apple is in crisis-management mode over user complaints that the company's home-grown replacement to Google Maps comes up woefully short.
Launched as a central feature of the new iPhone 5 and its new iOS 6 operating system, Apple's mapping app is supposed to offer beautiful Apple-designed cartography, turn-by-turn navigation, the ability to "fly" over an area and more.
Instead it's being called frustrating, inconsistent and downright inaccurate, with missing public transit stops, roads that wave like curly pasta and key buildings flat-out absent. Apple spokeswoman Trudy Muller told FoxNews.com the company was "working hard" to make the experience better and valued the criticism of customers.
"We launched this new map service knowing that it is a major initiative and we are just getting started with it. We are continuously improving it, and as Maps is a cloud-based solution, the more people use it, the better it will get," she said in a statement.
[pullquote]
"We're also working with developers to integrate some of the amazing transit apps in the App Store into iOS Maps. We appreciate all of the customer feedback and are working hard to make the customer experience even better."
Meanwhile tech pundits across the country slammed the app.
"An unsightly blemish on what is otherwise a beautiful OS," wrote Zach Epstein of BGR.com.
"Apple's decision to swap out Google Maps is a rare example of the company openly placing its own interests above those of its customers," noted Nilay Patel at The Verge.
At least U.S. iFans can see their local streets. Fans in London, Tokyo and France, where the phone went on sale on Friday, will see virtually blank renditions of their own cities.
"They don't hold their own against last generation's Google Maps on iOS 5," wrote Kyle Wagner on Gizmodo, who noted that "things probably won't be getting better any time soon," despite the company's statement.
The issue is a problem not just for new iPhone users but for those looking to upgrade an iPhone 4, iPhone 4S or iPad to the new operating system.
Users of such devices who had upgraded when the software launched Thursday appeared shocked to discover that Google's mapping software was gone. While still usable through the Safari web browser, Google Maps is unlikely to appear as a downloadable iPhone app any time soon.
"I have just installed iOS6 and I am so disappointed with the new Maps application. Steve Jobs would have never allowed such a mediocre application to be included in the iOS," wrote one user on Apple's discussion forums.
"I'm in the UK, and the new Maps app is laughable. Entire towns are missing, and the image resolution is appalling. How could Apple have got it so wrong?? " another frustrated user wrote.
"Maps is a downgrade, not an upgrade. It's shocking!"