Amazon sex toys mystery: Unsolicited parcels sent to strangers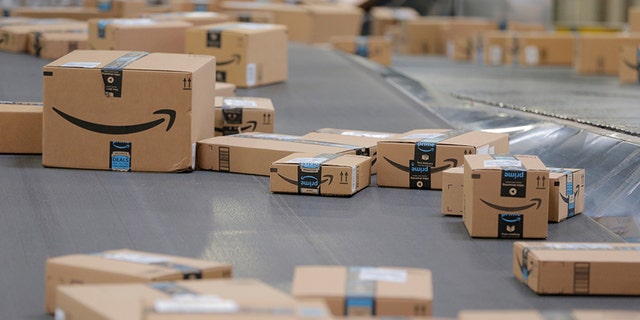 NEWYou can now listen to Fox News articles!
Amazon has become known as "the everything store," selling everything from pots and pans to books and furniture. It's racked up hundreds of billions in revenue and is now worth over $700 billion, making it the third-largest company in the S&P 500 by market cap, behind only Apple and Google.
But when its customers are repeatedly getting sent sex toys on an unwanted basis and it has not yet figured out how to solve the issue, its reputation for unrelenting customer service may be at stake.
The Daily Beast has reported that customers, including one by the name of Nikki, are being sent items they did not purchase, such as Bluetooth speakers, LED lights and sex toys.
AMAZON REVIEWS SCAM? COUPLE WHO KEEP GETTING MYSTERY PACKAGES FEAR THEY ARE NEXT VICTIMS
"The weird part about it is if this were a prank or a hacker sending things to women on the internet, it'd be expensive. I looked [the sex toy] up, and it's $25, which is sort of substantial," Nikki told the website. "It seems so personal."
Another Amazon user, who did not wish to be named, told Fox News that they also received several unwanted packages over the past six weeks and opened up an investigation with the local police as a result. "After speaking with several Amazon supervisors about my situation, they sent an email and requested my local police to open an investigation, as it seems to be a safety issue, which they did," the user told Fox News via email. "Amazon was able to give me some information about the sender and his purchasing activities, but that is as far as I have gotten."
The user added that they have not received any additional packages.
"We are investigating inquiries from consumers who have received unsolicited packages as this would violate our policies," an Amazon spokesperson told Fox News. "We have confirmed the sellers involved did not receive names or shipping addresses from Amazon. We remove sellers in violation of our policies, withhold payments, and work with law enforcement to take appropriate action."
Nikki, who ordered mascara, originally thought the shipment was a mistake. She spoke with Amazon's customer service in an effort to identify who had sent the item, but got nowhere after repeated calls.
Finally, she was asked to send in a subpoena with a host of information she did not possess, including the name, credit card and bank number of the person who mailed the sex toy.
Customer service obsession?
The Jeff Bezos-led company also did not address with Fox News why Nikki had difficulties getting Amazon's customer service teams to take her requests seriously.
"[They were] under the impression that I was simply calling to find out who sent me a fun gift to satisfy my own curiosity," she added in the interview with The Daily Beast.
Amazon has repeatedly stated that it is guided by four principles: "customer obsession rather than competitor focus, passion for invention, commitment to operational excellence, and long-term thinking." As such, it is unclear why a company, whose first guiding light is customer obsession, gave Nikki a difficult time and did not immediately take her repeated requests seriously.
A source close to the matter said that Amazon invests heavily in making sure the customer review system is one customers can trust. The source added that all reviewers in the U.S. need to have an Amazon account that has purchased at least $50 worth of goods with a valid debit or credit card before they can review products.

The Amazon spokesperson added that in its investigations so far, it has not found customer review abuse to be the motivation. "We have found very few reviews written on these shipments and we remove any reviews that we do find immediately," the spokesperson told Fox News.
According to a February 2018 report from Brand Finance, a consultancy firm, Amazon has become the most valuable brand in the world, supplanting Google.

Its brand is now worth $150.8 billion, up from $107.1 billion in 2017 on the strength of its cloud infrastructure and content streaming businesses, as well as its online retailing business.
"The strength and value of the Amazon brand gives it stakeholder permission to extend relentlessly into new sectors and geographies," Brand Finance CEO, David Haigh, said in the report. "All evidence suggests that the amazing Amazon brand is going to continue growing indefinitely and exponentially," he added.
Part of a larger trend?
Earlier this month, a Massachusetts couple told The Boston Globe they are receiving mystery packages that may be part of an elaborate fake reviews scam.
Mike and Kelly Gallivan, of Acton, said the first package arrived in October. They have continued to arrive at a rate of one or two a week, about 25 in all. The cheap items inside the boxes range from USB-powered humidifiers to rechargeable dog collars.
"We're just plain, ordinary people," Kelly Gallivan told the newspaper. "We don't want any part of this. But the packages just keep coming."
Here's how the scam works: a seller trying to boost the ratings of their own merchandise sets up a fake email account to create an Amazon profile, then purchases the items with a gift card and ships them to the address of a random person. Once the package is delivered, the owner of the Amazon account is then listed as a "verified buyer" of the product and can write a positive review of it that gets higher placement on product pages because of their status, James Thomson, a former business consultant for Amazon, told the Boston Globe.
Scammers may be taking advantage of Amazon's platform, which provides everything from shipping to storage for third-party vendors, a service known as Fulfillment by Amazon (FBA), a huge growth driver for the company. In the company's most recent quarter, revenue from third-party seller services was $10.5 billion, up 41 percent year-over-year.
In addition to U.S.-based customers being affected, the scam is making its way across North America, impacting universities across Canada.
AMAZON'S NEW GROCERY STORE THREATENS TO OBLIERATE CASHIER JOBS
Student union centers at seven universities across Canada also have been receiving mystery packages since the fall, according to the CBC.
Shawn Wiskar, University of Regina Students' Union vice-president of student affairs, says his facility has received at least 15 random packages with products ranging from iPad cases to male sex toys. He said his staff "very discreetly" went door to door in their offices and in other student centers to see if anyone had ordered the items.
A student union president at Ryerson University in Toronto – another recipient of the mystery packages – told the CBC that Amazon would not say who is sending the items, citing privacy reasons.
This story has been updated to include Amazon's statements to Fox News. Follow Chris Ciaccia on Twitter @Chris_Ciaccia