Amazon patents bizarre accordion-like chute to deliver packages from its drones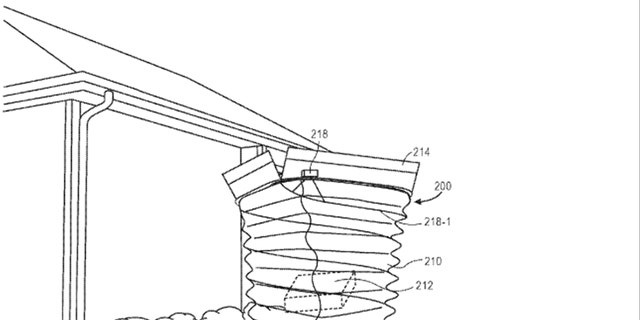 Looking to ever expand ways to deliver goods to its customers, Amazon has patented a way to allow its drones to deliver packages without ever having to land.
According to BizJournals, which first spotted the patent, the Jeff Bezos-led company has filed a patent to have accordion-like chutes extend from their unmanned aerial vehicles (UAVs), letting packages slide down the chute safely to the ground.
The patent would not only provide a safe distance between the UAVs and the people receiving the packages, but also cut down on noise pollution, BizJournals noted.
The patent number is 9,731,839 and was filed on Dec. 18, 2015.
TRUMP ATTACKS AMAZON ON TWITTER AGAIN, SAYS IT'S 'DOING GREAT DAMAGE' TO RETAILERS
BizJournals also said the patent notes each UAV could be outfitted with four of these chutes, cutting down on noise pollution and makingit easier to deliver packages in difficult weather. "If the (drone) is operating during high winds and/or in an area that includes many obstacles (e.g., trees) it may be beneficial to only extend the delivery shrouds that are closest to a portion of the delivery area where sound transmission is to be reduced," the patent is reported to say.
Bezos, now the world's third-richest man with an estimated fortune of $83.3 billion according to Forbes, first showed off Amazon's drone delivery unit in a Dec. 2013 interview on "60 Minutes."
Amazon has been expanding its patent portfolio in recent months, looking for innovative ways to deliver packages to customers in an effort to cut down on shipping costs. It recently filed patents for a beehive-like structure that would allow drones to pick up and drop off packages.
It also filed a patent for an "Aquatic Storage Facility" that would let it store products in "a body of liquid."
NOW YOU CAN COLLECT SOME OF YOUR AMAZON PACKAGES IN TWO MINUTES
In the second-quarter, Amazon had fulfillment expenses of $5.1 billion, up from $3.9 billion from a year ago.
Earlier this week, Amazon unveiled Instant Pickup, a service rolling out in select cities across the U.S. that let's them pick up things like snacks, cold drinks or phone chargers within two minutes of ordering them online.
The Associated Press contributed to this report.
Follow Chris Ciaccia on Twitter @chris_ciaccia