Amazing military ATVs armed with laser weapons will blast drones out of the sky
Laser weapon plus military grade ATV (All-Terrain Vehicle) equals blasting enemy drones out of the sky. This is an ingenious way to provide easily movable defense against the growing threat of attacks from enemy drones.
Terrorist drone destroying Raytheon laser weapons mounted on military Polaris Defense ATVs could soon be destroying enemy drones before they can harm U.S. forces with explosives.
Rapidly driving an MRZR to support an area under attack by a swarm of small drones, it will look like the warrior has something resembling "R2D2" popping his head out of the backseat. But terrorists will quickly learn it is not a cute robot, it is a powerful drone slaying laser weapon.
This isn't the stuff of science fiction anymore. Last Autumn the Raytheon and Polaris team proved that destroying drones with the MRZR HEL armed weapon works.
As long as there is power, U.S. forces will never run out ammunition with a laser weapon.
And there's been a lot of buzz about this dynamic duo in the Pentagon of late. Hopefully this will translate into acquisition and rapid deployment.
US MILITARY EYES FUTURISTIC 'BIONIC ARM' FOR TROOPS
This is an outstanding solution to immediately provide U.S. forces with more options to protect the force from these proliferating flying threats. The Polaris Defense MRZR will be able to reach teams in remote areas with difficult terrain and provide them a laser weapon for their arsenal.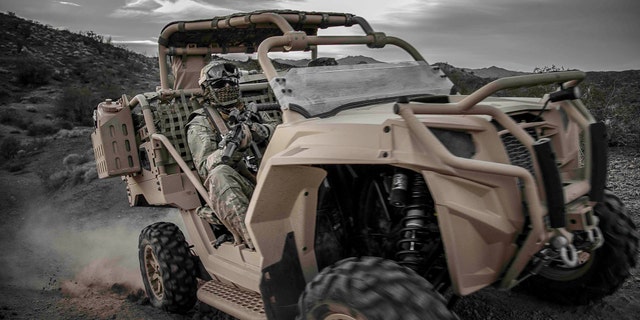 Raytheon's Multi-Spectral Targeting System is a high energy laser (HEL) combined with electro-optical and infrared sensors.
Delivering 20 to 30 blasts on about the same electricity as your fridge, recent reports suggest the system can already detect an enemy drone at more than 16,400 feet to blast it out of the sky.
U.S. forces could soon drive these to forward operating bases to protect teams there, to landing strips to protect arriving aircraft or position the MRZRs with HEL to protect MEDEVAC to make sure wounded are not prevented from reaching care by drones.
Why are 'hobby drones' such a big threat?
The threat of commercially available "hobby sized" drones to the U.S. military is real and serious – and the threat is only growing. Adversaries can use hobby drones for surveillance exposing U.S. force size, location and armament.
Just as dangerous, they can also be loaded up with explosives and used to attack U.S. forces. These drones could also be used to launch chemical and biological attacks against ground troops.
PODCAST: BREACH ENEMY DOORS + BEER BOTTLES WITH THIS AMAZING NAVY SEAL
Why have they become increasingly frequent in war zones?
The cost of these hobby drones has become cheaper and cheaper. While they become more inexpensive, they have become more sophisticated at the same time. They are very easy for bad guys to get their hands on.
ARMY SETS SIGHTS ON NEW SNIPER RIFLE
Sound ridiculous that terrorists would buy children's toys and use them to attack our forces?
Take the recent Mosul siege for example, ISIS used waves of small drones to attack Iraq's security forces.
HEL for enemy small drones
Laser weapons tend to be power gobbling beasts and extremely difficult to make smaller, lighter and rugged enough to make practical sense in combat scenarios.
This Raytheon laser can deliver about 20 to 30 laser blasts on a single charge from a normal 220v outlet.
And this is a charge that is about as much at plugging in a fridge or washing machine. Imagine that.
Add a generator and you've got a laser weapon with unlimited blasts – a limitless magazine to protect US forces.
US ARMY TANKS GET FUTURISTIC SHIELDS TO DESTROY INCOMING THREATS
The HEL system onboard delivers about four hours of tracking, intelligence, surveillance and reconnaissance capability while also acting as beam director on this single charge.
PODCAST: LEARN THE TRUTH ABOUT MILITARY DRONES FROM THIS ARMY INTELLIGENCE EXPERT
How about the ATV?
Let's take a closer look at what the MRZRs bring to delivering laser blasts in war zones.
There are many reasons why Polaris Defense MZRZR's are so valued by U.S. Special Operations – not to mention the civilian model is wildly popular throughout the country.
Designed for extreme performance in the toughest terrains, the MRZR is a small, ATV. Both variants also reach a max speed of around 60 mph with 88HP engines. To ensure maximum agility, the ATVs are built with a low center of gravity.
The MRZR can carry 1,000 pounds, while the MRZR 4 can carry an additional 500 pounds.
US SOLDIERS SET TO RECEIVE NEW SPECIAL OPERATIONS-STYLE NIGHT VISION GOGGLES
MRZR vehicles are already designed with keyless ignition, which makes it easy to jump in and instantly respond to a hobby drone attack. The vehicles can also be endlessly adapted for different mission configurations and requirements.
Important for keeping a low profile and avoiding detection, the vehicle can black out instantaneously.
Definitely air transportable, the MRZRs regularly catch flights with CV-22 tiltrotor military aircraft to support teams gaining access to targets and to provide laser protection support.
Good for defense, great for defense budgets
The cost per laser blast is usually estimated at about a dollar a shot.
Right now, forces are largely limited to their current arsenal. This means the U.S. and its allies are often forced to use weapons far more expensive than a dollar a shot.
Launching a Patriot missile against a hobby drone can cost a few million dollars – and is worth every penny if it saves an American life.
SCHOOL SHOOTINGS: HOW ARMY TECHNOLOGY COULD HELP SAVE THE LIVES OF TEACHERS AND STUDENTS
Given the vast numbers of drones in the hands of adversaries and the fact that drone swarm attacks will most likely become a fixture in war zones, the numbers of drones that need to be killed to protect forces is huge.
For adversaries, this attack can be as cheap as a $150 drone. For the U.S., solutions to defend against these attacks must come at as low a price tag as possible. Otherwise, the cost could become astronomical.
What's next?
Right now, it is stop and shoot. When Raytheon cracks the huge challenge of shooting on the move – and no doubt they will – imagine how amazing it will be to have a laser that can shoot on the move – and from an MRZR no less. U.S. forces could fire laser weapons on the move in the toughest of terrains.
This will greatly expand the ways the laser weapon can be used. For example, an MRZR armed with the laser could escort U.S. military convoys and protect the convoy from terrorist hobby drones loaded with explosives.
Other laser weapons
What sort of other laser weapons may be joining the U.S. arsenal? Space-based lasers, laser weapons for U.S. military aircraft and vessels at sea as well as other ground vehicles are all underway. Using lasers to shoot down enemy missiles over the sender's backyard could even be possible in the near term.
This past summer, Raytheon had another breakthrough, successfully firing a laser weapon from an Apache helicopter at White Sands Missile Range, New Mexico.