8 top gadgets for every personality type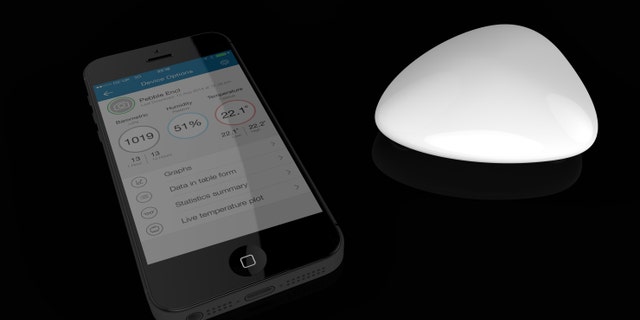 NEWYou can now listen to Fox News articles!
Last-minute holiday shopping bringing you down? The good news is that there's plenty of gadgets out there to suit every personality type, from the health nut to the foodie and the outdoor enthusiast. If you want something new, something cool, and something techie, then look no further.
1. Health nut
Price: $70
This simple home-monitoring device connects to your iPhone or iPad over the short-range Apple iBeacon signal that uses Bluetooth 4.0. You use it to monitor temperature, barometric pressure, and humidity in an immediate area. It's a smart gift idea for anyone who is interested in better health, because variables like high or low humidity in the home can contribute to poor health (especially the flu). You can see historical data for up to 30 days.
2. Fitness guru
Price: $150
Heart rate monitors are great for the first few weeks of using them. Then, you might get tired of having to fasten it around your chest or keep it synced with a phone. Intel, working with SMS Audio, figured out how to embed a heart rate monitor into this earbud set. You wear it normally, sync with an app like RunKeeper, and off you go. It's one less gadget to (ahem) monitor.
3. Movie maven
VIZIO 50-inch P-Series Ultra HD Full-Array LED Smart TV
Price: $999
2015 will be the year when 4K finally becomes widely available. There are rumors the Super Bowl will use this high-resolution format that shows 4,000 pixels on the screen. And Amazon recently announced a slew of shows are available in 4K. It's just a matter of time before Dish Network and DirecTV jump on the bandwagon. At $999, this high-end model from Vizio is a good future-proof investment. Apps like Netflix and Hulu are built-in as well.
4. Audiophile
Polk Hampden Computer Speakers
Price: $399
Most of us don't hear the subtle differences between one set of speakers and another. With this trendy-looking brown and tan Polk Audio Hampden set, audiophiles will notice the superior quality right away. There's more bass and more distinct playback when you listen to bands like Radiohead or Alt-J. A bonus is that you can play music from a laptop using a 3.5mm cable or connect over Bluetooth from your smartphone or tablet.
5. Outdoor enthusiast
Price: $399
The wide-angle lens on the GoPro action camera is cool, but Kodak has gone even further. The 360-degree lens can shoot 1080p video in a dome view, panorama, front-and-back 180-degree views, or just about anything you can think of to add a wider perspective. The camera also shoots 16-megapixel photos at regular intervals and comes with several mounts. A bonus is that the camera syncs to a smartphone using Wi-Fi and NFC (or near-field communication, a way to create a secure link) so you can control the camera remotely.
6. Office dweller
Price: $330
HP is on a roll with several new Windows 8 laptops and tablets, but this is the best one of the bunch. First, the Pavilion X2, at just $330, is priced well below the expensive Microsoft Surface Pro 3, at $800. Yet both tablets work fine as laptop replacements and run normal desktop apps like Microsoft Word and Adobe Photoshop. The X2 also comes with a keyboard that folds over the tablet for protection, lasts about 11 hours, and has a bright and sharp 10-inch screen.
7. Foodie
Price: $150
This high-tech coffeemaker, redesigned this year, makes coffee with the push of a button. The good news: the larger K-Carafe flavor packs can now brew four cups in an included carafe. There's a larger 80-ounce water reservoir, a new color touchscreen display, and even a night light. The best reason to use the Keurig these days, other than the immediate brewing, is the wide selection of flavors like Mocha Nut Fudge and rich Green Mountain Kona blend.
8. Gamer
Price: $99
Sony has made whole-house video gaming a little less expensive. Instead of buying an extra console for the family room, this low-cost device, about the size of one card deck, connects to an HDTV and lets you play classic and casual games like Limbo or PlayStation Vita games like Murasaki Baby. You can also stream any game you own from your PlayStation 3 or 4. (For that, make sure you use a wired Ethernet connection through a route; it's a bit slow on Wi-Fi).