New destroyers, fighter jets, tanks, submarines, Black Hawk helicopters, supersonic weapons and more will make the U.S. military even more powerful next year.
In line with White House recommendations, it looks as though defense will receive an increase of 3 percent in funding - meaning the military will receive $674 billion in support in 2019.
How will it be spent?
Not only will the force be expanded with 16,400 additional active-duty and reserves and a 2.6 percent pay raise be introduced, there will be a mega-boost in cutting-edge tech to help ensure the United States continues to dominate in land, sea and air power.
WEAPONS UPGRADE SET TO MAKE US SPECIAL OPERATIONS EVEN MORE DEADLY
More than 200 new combat aircraft, more than 130 upgraded tanks and more than a dozen new naval warships will be joining the nation's arsenal in 2019.
So what's on the government-adapted, military shopping list for 2019? Here's a look at what to expect.
93 F-35 fifth generation fighter jets
The Lockheed Martin F-35 Lightning II is a fifth-generation fighter jet and the most advanced in the world. It provides unprecedented capabilities like remarkable stealth features that allow it to evade air defenses and penetrate deep into enemy space when necessary.
The situational awareness alone is extraordinary and provides a decisive advantage. The single seater can be used for ground attack, but also against enemy aircraft and targets at sea. It is so advanced that pilots can "see through the floor" of the aircraft to the ground with their remarkable helmets.
NEW LASER-EQUIPPED DRONES WILL TAKE OUT MISSILE THREATS AGAINST THE US
There are three primary variants: the USAF flies the F-35A conventional takeoff and landing (CTOL), the Marine Corps flies the F-35B short take-off and vertical-landing (STOVL), and the Navy flies the F-35C catapult-assisted take-off but arrested recovery (CATOBAR), which are tailored for basing on military aircraft carriers.
PODCAST: THIS FIGHTER PILOT HELPED THIS NFL TEAM WIN THE SUPER BOWL: HERE'S HOW
58 UH-60 Black Hawk helicopters
Black Hawk helicopters were developed by Sikorsky more than 40 years ago. They are just as vital today for air assault and a wide range of other purposes from medevac through to special operations missions.
The Black Hawk has evolved significantly over the years and today's variant can fly even higher while carrying even more than before.
These powerful, heavily-armed helicopters can fight their way into a battlespace to deliver a substantial number of troops and fight their way out when extracting them.
66 AH-64 Apache helicopters
The AH-64 Apache attack helicopter has served in the U.S. Army arsenal for more than three decades. Made by Boeing, they now look on track to serve the military for more than another two decades.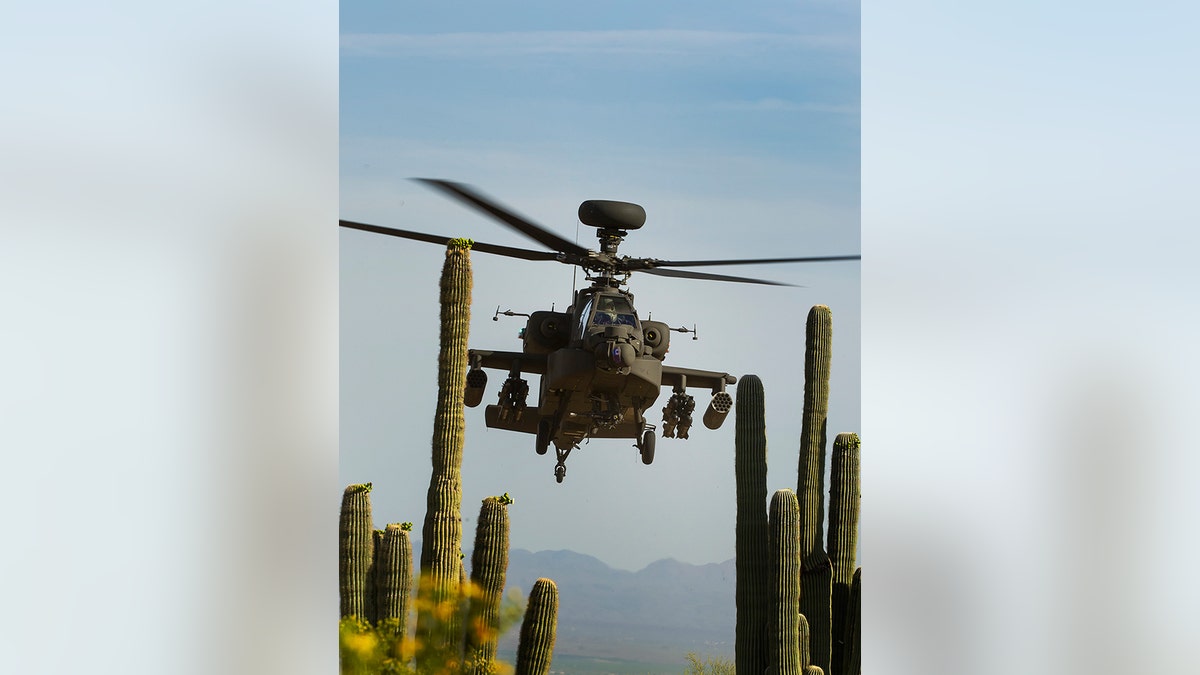 'GIRAFFES' JOIN THE NAVY AND HUNT ENEMY THREATS
Apaches have continued to advance. This helicopter can fly at speeds exceeding 150 knots per hour and can carry hard-hitting weaponry tailored for missions. The Longbow variant, for example, can carry 16 Hellfire missiles on four launchers and four air-to-air missiles.
13 V-22 Osprey aircraft
With its special tiltrotor tech, the Boeing Osprey combat helicopter has a very distinctive, recognizable look and delivers unique capabilities. It combines the vertical performance of a helicopter with the speed and range of a fixed-wing aircraft.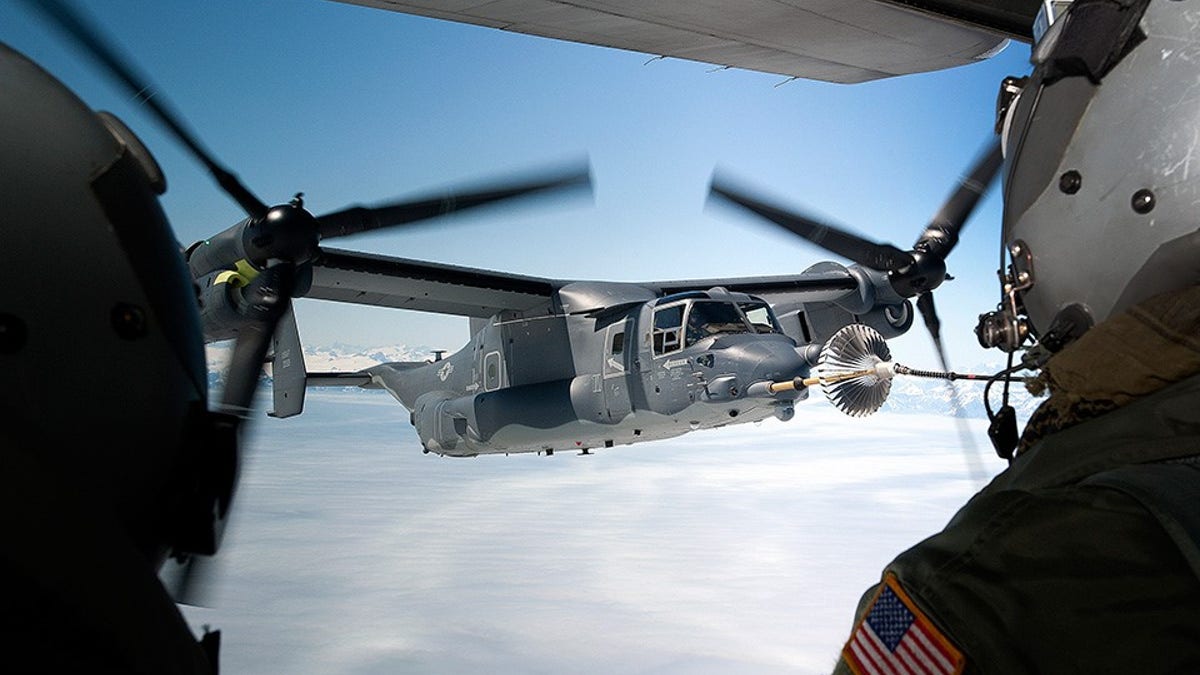 When the rotors are in a vertical position, this aircraft takes off, lands and hovers like a helicopter. Once airborne, it can convert to a turboprop airplane capable of delivering high-speed, high-altitude flight.
PODCAST: INSIDE GRENADE EXCHANGES AND OTHER UNFORGETTABLE DELTA ADVENTURES
$1.5 billion in M1 Abrams tank enhancements
M1 Abrams tanks have been an iconic element of U.S. Army might since 1980.
A MILITARY HELICOPTER DRONE THAT CAN FIGHT WILDFIRES
In 2019, 135 tanks are expected to receive upgrades - $1.5 billion of modernizing and enhancing what these tanks bring to the fight and how they protect American warriors.
These main battle tanks will most likely receive armor enhancements to stop the latest evolution in threats on the battlefield. The Army has been very interested in active-protection systems that have proven very effective at stopping antitank missiles and other threats.
3 DDG-51 Guided-Missile Destroyers (Arleigh-Burke class)
The DDG 51 is a warship with offensive and defensive capabilities for a wide range of missions.
These are surface combatant ships that can attack, and defend against, enemy air aircraft, enemy submarines and other enemy surface warships.
This Destroyer is armed to the teeth and will provide vital firepower for strikes. Enemies will not want to be on the receiving end of the MK-41 Vertical Launching System (VLS).
'FORCE FIELD' TECHNOLOGY COULD MAKE US TANKS UNSTOPPABLE
Destroyers can conduct missions on their own or as part of carrier strike groups, surface action groups, expeditionary strike groups, and missile defense action groups.
2 Virginia-Class submarines
The new Virginia Class attack submarine is nuclear-powered. Leveraging its advanced stealth, it can be used for deep ocean anti-submarine warfare and shallow water (littoral) operations such as hugging enemy coastlines to conduct surveillance without ever being detected.
The weapons systems on these submarines are phenomenal. They are equipped with 12 vertical missile launch tubes and four 533mm torpedo tubes. The vertical launching system alone has the capacity to launch 16 Tomahawk submarine-launched cruise missiles (SLCM) in a single salvo.
From the 21-inch torpedo tubes, 26 mk48 ADCAP mod 6 heavyweight torpedoes and sub harpoon anti-ship missiles can be fired. In addition, Mk60 CAPTOR mines can be added to its firepower.
Littoral Combat Ship (the LCS)
Designed to fight in littoral areas and plagued with bad press and performance concerns, there are already three more LCS underway thanks to funding in 2018.
STORMBREAKER: POWERFUL BOMB PENETRATES BAD WEATHER, SPELLS BAD NEWS FOR BAD GUYS
Military focus has shifted to introducing a new frigate. The White House recommended only one additional LCS would be necessary; however, politicians seem to have a different view to our military and more may be funded in 2019.
Hypersonic Weapons
Hypersonic weapons travel at Mach 5 or faster - five times the speed of sound. The Senate has added $508 million more funding for the extremely important field of hypersonic weapons.
In recent years, the United States has not prioritized hypersonic development whereas countries like Russia and China have been very public about their advancements.
The military requires funding not just to develop a U.S. arsenal of this new era of weapons, but to develop solutions to defend against these missiles that can strike with unprecedented speed.