2017 will be the year of Android apps on laptops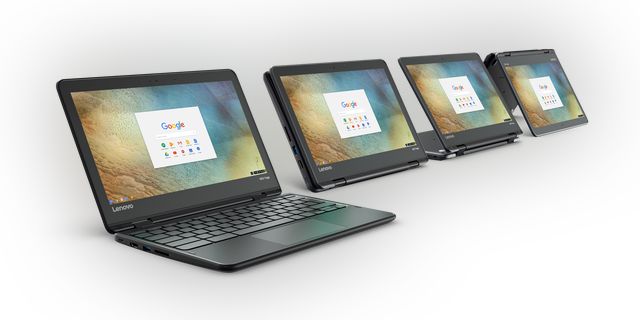 Android is everywhere— and laptops may be next.
Android has been the most popular device platform on the planet for years. And usage patterns point to this only increasing in the future.
But the laptop is the one mobile device that has eluded Android – mostly because the operating system has never been tailored to laptops. But that will change in 2017 as Chromebooks (laptops and two-in-one hybrids that run the Google Chrome operating system) get access to the Google Play Store and Android apps.
"All Chromebooks launching in 2017 and after as well as [other Chromebooks]…will work with Android apps," Google stated on its Chromium Projects page. The page also lists existing Chromebooks that will work with Android apps "at a time to be announced in the future."
GOOGLE COULD BE SET TO RELEASE A SMARTWATCH
That list is long and includes dozens of Chromebooks from companies such as Dell, Hewlett-Packard, Lenovo, Samsung, Asus, and Acer.
To get a better idea of what Google is targeting in 2017 and beyond, here's what the company said last year when it announced the initiative.
"We're bringing Google Play…to Chromebooks. This means you'll be able to download and use Android apps, so you can make a Skype call, work with Office files…or take a break with games like Minecraft, Hearthstone or Clash of Clans."
The blog post continued. "The same apps that run on phones and tablets can now run on Chromebooks without compromising their speed, simplicity or security."
Android – a touch-based interface – will become more viable as Chromebooks add touch screens, which more new models now have.
WILL AMAZON'S ALEXA REPLACE THE KEYBOARD?
Acer, for instance, announced the Chromebook Spin 11 this week at an education show in London. The touch-screen Spin 11 is a 2-in-1 hybrid Chromebook that can be configured as a standard laptop or converted to "tablet mode."
"The Chromebook Spin 11…will provide additional capabilities thanks to support for Android apps via the Google Play Store out-of-the-box," the company said in a statement on Tuesday.
Lenovo also announced new Chromebooks this week: the Lenovo N23 Chromebook and N23 Yoga Chromebook.
"The N23 Yoga version is the first Lenovo Chromebook equipped with an ARM-based processor, optimized to run the Google Play Store apps," the company said in a blog post on Tuesday.
And the fact that the Yoga version comes with an ARM processor – not an Intel processor – is significant because ARM processors are used in all of the major Android smartphones worldwide from companies like Samsung, Google, Motorola, and LG. Android historically has had better compatibility with ARM chips.
Probably the single best thing about Chromebooks for consumers and educators— the latter a market where the Chromebook has become widely used— is the price.
For example, the Lenovo N23 Chromebook will be available from February 2017, starting at $199. And the Lenovo N23 Yoga Chromebook will be available from April 2017, starting at $279.
And the vast majority of Chromebooks are priced under $400, with many priced under $300.