10 biggest weapons stories of 2017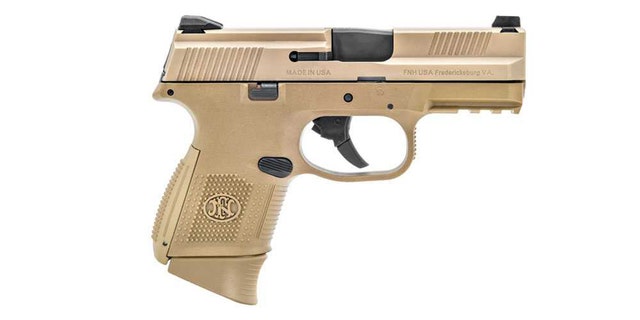 Concealed carry guns, lasers, sound weapons that attack invisibly, new nuclear bombs….Reveals of new weapons – both personal protection and military use - were big this year. Not just in the sheer number, but in the wide range of types of weaponry.
On the smaller scale, there were pistols and rifles. In two crucial historic shifts, the Army made a radical change in sidearms and introduced a new pistol and the Marines took the Armed Forces lead in adopting a new magazine that eliminates jamming and will save many Marine lives in the future.
There was also a boom in excellent concealed carry options for personal and tactical professional use. With several of the legendary American gunmakers celebrating anniversaries and iconic history, special editions of rifles with meaningful significance were also big alongside innovation for rifle use in law enforcement and military scenarios.
3 OF THE CRAZIES BULLETPROOF BODY ARMOR ADVANCES OF 2017
Futuristic weapons were also big news with landmark advances in weapons like lasers and sound weapons unleashing invisible "bullets" under the spotlight with the alleged attacks in Cuba. Not to mention new blackout bombs that can turn an entire nation dark in seconds.
And on the massive scale of destruction, nuclear weapons were frequently in the headlines and became a national discussion in 2017.
From new concealed carry options through to new nuclear bombs, here are 10 of our top weapons stories of 2017.
New concealed carry options
Looking for an everyday concealed carry weapon for self-defense? SHOT Show revealed and featured the very latest options for a range of budgets and needs this year.
The top highlights in new concealed carry included a futuristic and customized Taurus Spectrum .380 ACP Pistol and a classic Hollywood chic style Kimber Micro 9 Bel Air. There was also a return of the Colt Cobra and the preferred gunmaker of James Bond, Walther Arms, featured the Creed.
A new color of the excellent FNS-9 Compact FDE also debuted at SHOT as well as an enhanced and advanced Smith & Wesson M2.0.
6 GREAT CONCEALED CARRY GUNS AT SHOT SHOW 2017
Hottest rifle debuts at SHOT SHOW 2017
From hunting rifles to prepared-for-anything rifles, SHOT Show is the place where the new guns are revealed. We took you inside to show you the new limited edition Browning BAR Safari Rifle, a special 200th anniversary Remington, for reacting and moving quickly a Ruger 10-22 Takedown Lite, a chassis based precision rifle Winchester XPC and the Springfield Armory Saint SHOT Show debut.
Unstoppable magazines for the Marines
A reliable weapon can be the difference between life and death for those serving in the military. The Magpul Industries PMAG GEN 3 is a magazine for rifles that ensures the user stays lethal in a fight.
More than 20,000 rounds fired? No problem. Still no magazine stoppages.
The US Marine Corps has made the decision to ensure that all Marines have the best magazine available. Going forward, Magpul's PMAG GEN 3 has become the official magazine, giving Marines that extra advantage to stay alive and lethal in a firefight.
PODCAST: INSIDE THE ELITE MARINE CORPS SNIPER SCHOOL WITH A FASCINATING INSTRUCTOR
New Army pistol
In future battles, U.S. soldiers will have a new sidearm for personal protection. The Army's new pistol may see more action than the last thanks to a design that has great potential for offensive purposes like close quarter combat.
The Sig Sauer 9mm XM17, and the more compact version XM18, are replacing the M9 as the Army's service pistol. At the end of 2017, the Army began fielding the first Sig Sauer XM17 Modular Handgun System (MHS) sidearms.
This is the first change in about three decades since Beretta's M9 was first introduced as the Army's sidearm in the Cold War era back in 1986. For all the details: Meet the US Army's new pistol
The U.S. Army has revealed a new holster that soldiers will rely on when drawing their new pistols.
ATHENA laser weapon
For all those naysayers who thought laser weapons would never work…2017 delivered undeniable proof that lasers are going to be extremely powerful weapons against enemies of the United States.
Silent, invisible, deadly. The powerful ATHENA laser weapon can destroy enemy threats within seconds. This year, the laser weapon proved itself a mighty force in battle by destroying five Outlaw drones.
ATHENA LASER WEAPON 'KILLS' 5 'OUTLAWS'
Weapons with sound "bullets"
Weapons that use sound as a destructive force became a national conversation in 2017 after the alleged attack on US State Department officials in Cuba.
How do sound weapons work and what kind of sound weapons exist?
PODCAST: GRAB A BEER WITH RANGER AND THE HILARIOUS YOUTUBE STAR MAT BEST - FIND OUT WHAT LIFE IN THE HARDCHARGING RANGERS IS TRULY LIKE
Blackout bombs
In an instant, the entire country of North Korea would blackout … such is the power of new bombs under development in South Korea.
New powerful bomb for new stealth fighter jet
Adversaries of the United States will soon be facing the most advanced stealth fighter jet in the world - with even more firepower. This fighter can penetrate deep into an country's airspace without them knowing to deliver this devastating new bomb.
Mini-Nukes- the new American nuclear weapons?
North Korea continues to threaten the United States with a nuclear attack. In the Cold War era, the deterrence approach could be described as the bigger the nuclear bomb, the better.
Are new mini nukes the right solution instead for today's threats? Building a new type of nuclear weapon, mini nukes, is under consideration by the White House.
America's nuclear arsenal
In 2017, America's vast nuclear arsenal was regularly in the spotlight.
But what exactly does President Trump have at his disposal in terms of nuclear weapons?