Young catcher Gary Sanchez powering New York Yankees' playoff drive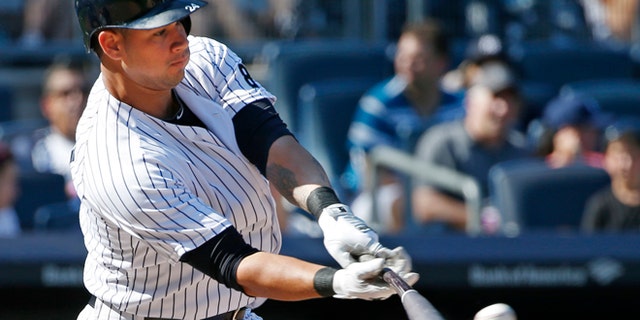 With every swing and every smash that reverberates off his bat, Gary Sanchez's Major League Baseball debut becomes even more remarkable.
On Sunday, the New York Yankees rookie doubled and singled at Yankee Stadium in a 5-0 Baltimore Orioles win. On Saturday, he hit a home run in his third straight game, reaching 11 career home runs faster than anyone in major league history — 23 games, including two hitless games dating back to last year.
"It's fun to watch," teammate Starlin Castro said. "Every time he goes to the plate, we feel like something is going to happen in a good way."
In less than 100 plate appearances this year, Sanchez has ignited the Yankee offense, hitting .405 with 11 home runs and 21 runs batted in. He has a .468 on-base percentage and a ridiculous .893 slugging percentage.
The 11 homers are the most in a month by a rookie since Milwaukee's Ryan Braun hit 11 in July 2007, and are the most by an American League rookie since Oakland's Mark McGwire hit 15 in May 1987. They are also one more than the young catcher hit in more than 300 plate appearances at Yankee Triple A minor-league affiliate, Scranton/Wilkes-Barre, this year.
After Sanchez connected for his eleventh on Saturday, the crowd emphatically chanted his name. The next batter, designated hitter Mark Teixeira, stepped out of the batter's box, allowing the 23-year-old to tip his batting helmet to the fans from the top of the dugout steps.
He said it was his first curtain call.
"It's very exciting to hear your name being called out by the fans. It's a very exciting moment," he said through a translator.
Since Sanchez got called up and began playing in early August as part of the Yankee youth movement that saw Alex Rodriguez released and Carlos Beltrán traded to Texas, the team has gone 12-9 and remained in the hunt for an American League wild card playoff spot.
"We've gotten a lot of production up and down the lineup," manager Joe Girardi said. "Everyone seems to be contributing."
On Sunday, however, Kevin Gausman and the Orioles quickly put two previous blowout losses at Yankee Stadium in the past.
Gausman tamed the torrid New York hitters, Mark Trumbo lined his major league-leading 40th home run and Steve Pearce also connected as Baltimore averted a bruising sweep to remain 2 ½ games ahead of the Yankees in the wild card standings.
Based on reporting by the Associated Press.