'You spoiled brat!': Craig Sager's daughter slams ex ESPN star Britt McHenry in epic takedown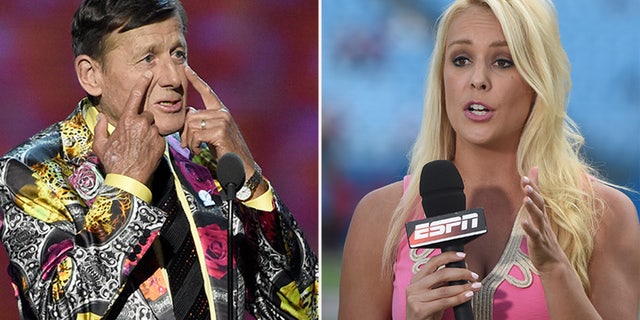 NEWYou can now listen to Fox News articles!
Britt McHenry picked the wrong day to mess with the daughter of legendary NBA broadcaster Craig Sager.
In an online post Friday – the first anniversary of her father's death – Kacy Sager ripped the ESPN has-been over a tweet that took a shot at her brother Craig Sager Jr., according to the New York Post.
The elder Sager was 65 in 2016 when he died of leukemia.
Sager, a sportswriter herself and statistician for Turner Sports, woke up on the emotional Friday to dozens of sympathy messages-- and McHenry's tweet about her brother, according to the Post.
"Same kid whose only connection to media is his famous dad," McHenry tweeted Wednesday during an argument with Sager Jr.'s ex-girlfriend, Brenna Simon.
The Post reported that the tweet has since been deleted.
"Might be time for an intervention dear," Kacy Sager told McHenry in her post. "FIRST OF ALL, it really bums me out to see someone whose career held so much promise just a few years ago, someone I used to have a lot of respect for, have enough free time on her hands to engage in a petty Twitter argument with my brother's ex."
When ESPN dismissed McHenry in April as part of a massive layoff, she hinted that she was let go because of her conservative views in another deleted tweet, the Post reported.
McHenry brought up Craig Sager Jr. as she and Simon argued over the issue of sexual harassment. McHenry suggested that some men, including one she knows of, have been unfairly accused of sexually harassment when those said relationships were consensual.
"While you've been busy single-handedly tanking the value of a degree from Northwestern, Craig has kept his head down and built the foundation for a career that will certainly outlast the one you pissed away by being a spoiled brat," Kacy Sager wrote. "Why take a shot at him at all? Why lash out at him when he wasn't even part of the conversation?"
"It's not like he towed your damn car…," she added, alluding to the time a video of McHenry berating a towing company employee went viral and led to a suspension from ESPN.
According to the Post, Sager concluded her tirade by saying, "Don't f--- with my family. #SagerStrong"
McHenry apparently did not heed the advice, tweeting out a response.
The tweet said: "Pointing out that her brother & her are known by their last name isn't 'taking a shot.' It's a fact. Stand-by it and any other mean girls burn book comments that are made."