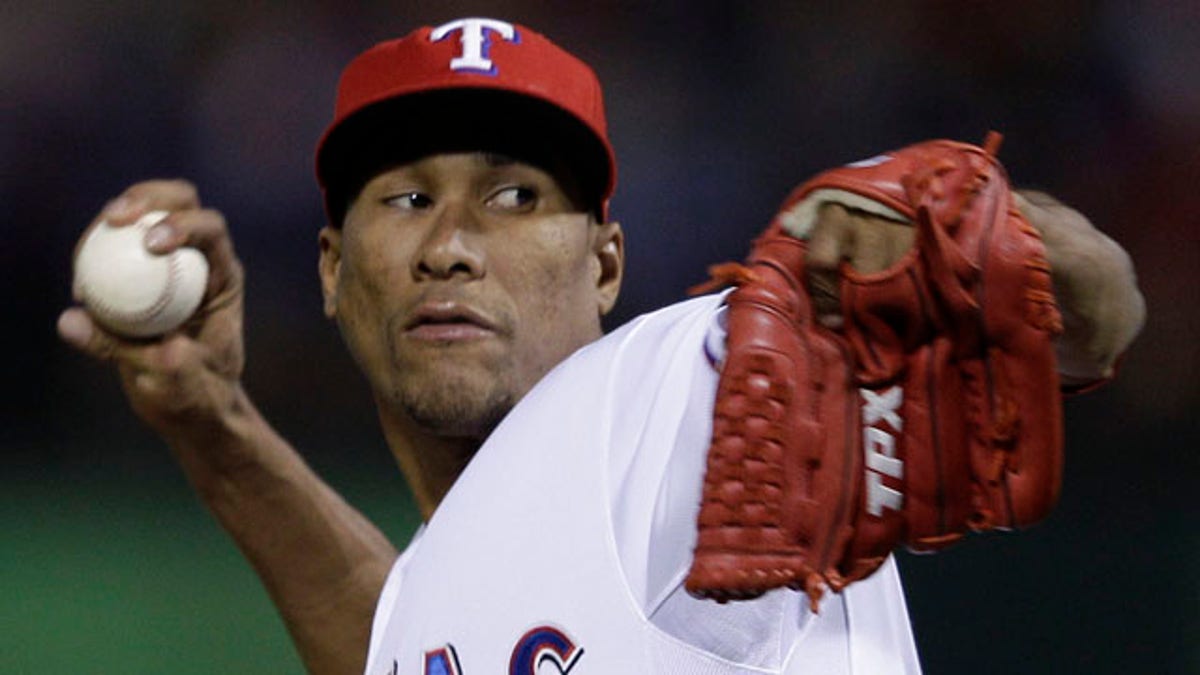 After breezing through the Tampa Bay Rays and the Detroit Tigers in the first two rounds, Texas Rangers' reliever Alexi Ogando has perhaps hit a wall against the St. Louis Cardinals in the World Series.
Despite giving up game-changing hits early in the series – greeted by Allen Craig's go-ahead, two-out single in the sixth inning of the Cardinals' Game 1 victory followed by another Craig blow the next game, albeit in a win – Rangers' skipper Ron Washington has not shied away from going to the Dominican flamethrower.
During a tense Game 5, the manager again went to his 27-year-old late-game pitcher – who allowed three walks, but more importantly, didn't give up a run.
As the series goes to a decisive Game 6 Wednesday night in St. Louis, with the Rangers in a position to its first World Series, Ogando could again have a pivotal role.
That is, if he hasn't run out of gas.
He appeared in three games during the ALDS against Rays, allowing one hit in 2 2/3 scoreless innings. The All-Star, who went 13-8 in his second Major League season and first as a starter after pitching out of the bullpen last year, then gave up one run against the Tigers – courtesy of a home run by to Miguel Cabrera – along with three hits and two walks in the ALCS.
He struck out 10 batters in four appearances, helping the Rangers advance to its straight World Series.
The World Series has been a different story, though. He has a 13.50 ERA in his four trips out of the bullpen, having allowed four runs, three earned, seven hits, five walks and only two strikeouts.
Washington recently dismissed suggestions that Ogando was going through a mental lapse after coming up short twice with the same low and away pitches to Craig and the ball he left up in the zone to Albert Pujols on the night he hit three homers.
"No, it had nothing to do with it. Once again, I think you have to give Allen Craig credit. The two pitches that he hit on Ogando, he earned it, because if you have another guy up there, maybe those pitches are by him," Washington said. "And then he struck him out last night on the same pitch that he's been hitting."
He fought. He fought. He was out there battling.
"No lapse on Albert," either, he added. "He just got a pitch in the wrong spot. I don't think at this time of the year you're going to have lapses like that."
So there Ogando was again in Game 5. He got Rafael Furcal to strike out looking but started to unravel thereafter. He walked his nemesis, Craig, but was bailed out by Mike Napoli, who threw him out at second base attempting to steal. Ogando then intentionally walked Pujols and gave up a single to Matt Holliday.
With runners on first and second, he walked Berkman and got out of the jam by getting David Freese to fly out to center.
Ogando's night was over after giving up a single to Yadier Molina to start the eighth inning.
Ogando appreciated the opportunity to rebound.
"Although I've faltered in a couple of games, [Washington] has always had confidence in me," he said. "Sometimes you go through tough moments in games. That's part of the game. There are good times and bad times, and when I get a fresh chance I try to do the job."
Although Ogando walked a thin line in Game 5, Washington was pleased with the way Ogando was able to bounce back.
"He fought. He fought. He was out there battling. You've got to give credit to the St. Louis Cardinals' hitters," Washington said after the game. "They're pretty good hitters, and they made him work, but he didn't give in.
"He was out there battling, and that's what we do...," he added. "And we battle nine innings and he was a part of it, and he got the job done. He got the job done."
The Rangers are one win away from winning the World Series. And history suggests that if the game is tight in the late innings, Ogando may once again be Washington's man.
Adry Torres, who has covered MLB, NFL, NBA and NCAA basketball games and related events, is a regular contributor to Fox News Latino. He can be reached at elpiloto137@gmail.com or follow him on Twitter: @adrytorresnyc.
Follow us on twitter.com/foxnewslatino
Like us at facebook.com/foxnewslatino