World Cup Qualifying draw: UEFA presents intriguing matchups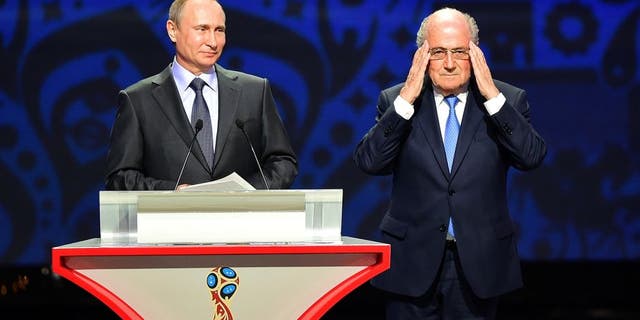 ST. PETERSBURG, Russia -- Defending champion Germany appears to have a relatively straightforward path to the 2018 World Cup after being drawn in Group C on Saturday with the Czech Republic, Northern Ireland, Norway, Azerbaijan, and San Marino.
But the Netherlands, France, and Sweden were all paired in Group A alongside Bulgaria, Belarus, and Luxembourg.
Spain, the 2010 champion, is in Group G with Italy, Albania, Israel, Macedonia, and Liechtenstein.
Neighbors England and Scotland will meet in Group F.
In Oceania, the second round has two groups of four teams - and the top three in each group advance.
Group A includes New Caledonia, Papua New Guinea, Tahiti, and either American Samoa, Cook Islands, Samoa or Tonga.
Heavy favorite New Zealand is in Group B with Fiji, Solomon Islands, and Vanuatu.
The advancing teams are split into two groups for the third round, and the group winners meet in a home-and-away series for the right to meet the fifth-place team from South America in a home-and-away playoff for a berth.
The United States will open World Cup qualifying in November in a four-nation group that includes Trinidad and Tobago.
The other opponents in Group C will be either Guatemala or Antigua and Barbuda, and Aruba or St. Vincent and the Grenadines.
Mexico is in Group A with Honduras, Canada or Belize, and El Salvador or Curacao.
Costa Rica is in Group B with Panama, Jamaica or Nicaragua, and Haiti or Grenada.
The top two nations in each group advance to the six-team final round, known as the Hexagonal. The top three qualify, and the fourth meets an Asian opponent in a playoff for another berth.
Among the interesting pairings in Africa's second round were Angola vs. South Africa, the Chad-Sierra Leone winner vs. Egypt, the Comoros-Lesotho winner vs. Ghana, the Djibouti-Swaziland winner vs. Nigeria, the Liberia-Guinea-Bissau winner vs. Ivory Coast, the Somalia-Niger winner vs. Cameroon, and the Tanzania-Malawi winner vs. Algeria.
Russian President Vladimir Putin opened the World Cup qualifying draw with a 3 1/2 -minute speech and promised fans with tickets will be able to enter the nation for the 2018 tournament without visas.
Dressed in a dark blue suit and dark blue tie, Putin stood beside FIFA President Sepp Blatter and said ''today is a special day for millions of fans of the game,'' according to a translator.
Blatter told Putin ''you make us happy and comfortable,'' drawing some applause, and called St. Petersburg the ''Pearl of the Baltic.''