World champ Williams makes team despite struggles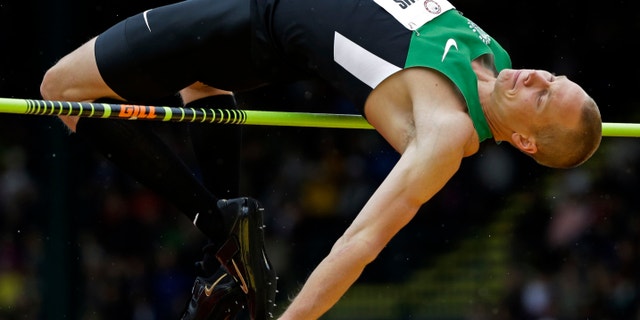 NEWYou can now listen to Fox News articles!
EUGENE, Ore. – The persistent rain ruined high jumper Jesse Williams' rhythm and nearly washed away his Olympic chances right along with it.
The reigning world champion bowed out of the competition in fourth place at the U.S. Olympic trials on Monday night.
A potential disaster for a jumper the Americans are counting on to secure some sort of medal at the London Games.
Only the top three earn spots to the Olympics, provided they have reached the Olympic "A'' standard of 7 feet, 7 inches. And someone did indeed fail to hit that mark, third-place finisher Nick Ross.
Like that, Williams backed his way onto the team in an event that Jamie Nieto won with a jump of 7-5 ¾, while Erik Kynard took second.
It wasn't the way Williams wanted to make the squad. He vowed to train more in the rain, especially because this just might be the type of weather he encounters in London.
"These conditions, they were tough," said Williams, who struggled at 7-5 ¾, missing it twice before finally clearing the height. "It was difficult for me to get in a groove and jump to my capabilities.
"The whole goal was to make London and now I'm there and I want to get on top of the podium. This is not deterring my goal."
While Williams made it to London through the backdoor, 800-meter runner Nick Symmonds finished in style. He won his fifth straight U.S. title by easily holding off 35-year-old Khadevis Robinson and Duane Solomon.
For Symmonds, there was nothing wrong with a little drizzle. He's used to this type of inclement weather, being that he went to nearby Division III Willamette University and was running for the Oregon Track Club elite. He started far back in the pack but surged into the lead in the final 100 meters for the victory.
As Symmonds crossed the finish line, he spread out his arms in celebration and soaked up the cheers from the fans.
"This crowd just doesn't want to see me make the team," Symmonds. "They want to see me win. That makes me run with a little more aggression."
Around these parts, Symmonds is a rock star. And this only adds to his lore — a date with hotel heiress Paris Hilton. There were even rumors swirling around that she might even show up at Hayward to watch him run. But she was a no-show.
Symmonds did make a little reference to her in his news conference, saying how his travels around the planet have led to some "incredible dates."
Robinson took it from there.
"What kind of program you on?" he said. "We're just at the track with our coach."
On this dreary night, Alysia Montano definitely stood out by wearing a bright yellow flower in her hair. The plastic decoration has become her trademark.
So has this: stepping up at big events. Montano earned her way to London in the 800, along with Geena Gall and Alice Schmidt.
In the javelin final, Sam Humphreys earned a win but not a spot on the team. His best throw of 268-7 failed to meet the required "A'' standard. Same with runner-up Sam Crouser.
So that means Craig Kinsley, Sean Furey and Cyrus Hostetler will represent the team — the third-, fourth- and fifth-place finishers.
But at least that event has three qualifiers going. The women's triple jump will only send Amanda Smock to the Olympics because none of the others met the standard.
The trials will now take a two-day break, with the third-place tie between Allyson Felix and Jeneba Tarmoh in the women's 100 meters still hanging over the competition.
USA Track and Field came up with new procedures Sunday night designed to determine the third and final spot on the Olympic team for the London Games. Tarmoh was originally declared the third-place finisher in Saturday's race and the official scoring said she edged training partner Felix by 0.0001 seconds. But the results were reviewed, and after a lengthy delay, the dead heat was announced.
This has touched off a wave of controversy, especially because the national governing body had no protocol in place at the time to decide such situations.
But any publicity, good or bad, is just that — publicity.
"I've seen this on everything from 'CNN' to the 'Today' show," said Max Siegel, the recently hired CEO for USATF. "We've got to capitalize on the attention they're giving us."
USATF President Stephanie Hightower also has seen this situation explode.
"I'm getting text and voice mails from all over the world," she said. "They are stay-at-home moms to retired folks to business leaders in my community, texting me, saying, 'They've got to do a runoff, not the coin toss.' It's becoming a media topic that I think is good for the sport."
Bobby Kersee, who coaches both sprinters, said Tarmoh and Felix won't decide anything until after they run the 200, with the final scheduled for Saturday.
Here are the options for Felix and Tarmoh to mull over during the down time: They can either decide who goes to London in the 100 by a flip of the coin or through a runoff.
"All we can do right now is understand what they're proposing," Kersee said. "We told them we're going to focus on the 200 meters and we'll deal with their proposal after the finish."